Messi's possible last Classico at Camp Nou was one to forget
November 5, 2020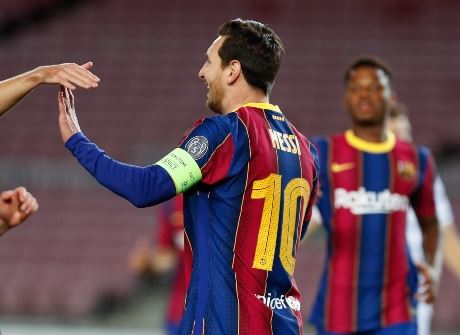 Saturday, October 24th, 2020 was a sad date for most, if not all Barcelona fans from around the world. Spanish El Clasico took place at Camp Nou, and not only did the team lose dramatically to their archrival Real Madrid, but this might very well have been Lionel Messi's last Clasico at home. The saddest part being that there were no fans to even say goodbye.
The beginning of the 2020-2021 La Liga season has not been easy for either of the two biggest Spanish teams of all times.
It's been all drama for Barcelona, as Messi actually wanted to leave the team and go join Pep Guardiola at Manchester City. Bartomeu's legal team got to work and did not allow that to happen, and the Argentinian superstar had to stay, at least for this season. The team sacked Quique Setien and brought Ronald Koeman as head coach,
Antoine Griezmann was benched, Luis Suarez was sold to Atletico Madrid, so it's safe to say that Barcelona is a mess right now.
After the hard loss in El Clasico, Barcelona sits 12th in the league's table, with just 7 points in 5 matches, something we're just not used to seeing.
On Real Madrid's side, the team got to first place in the table after taking the 3 points from Camp Nou, but Atletico Madrid is right there putting up a good fight. However, Zidane's team lost to Cadiz in La Liga and to Shakhtar
Donetsk in Champions League, both right before El Clasico, and things got pretty intense during those days, with people even asking for the French coach to leave the team.
At the end of the day, both teams remain as the biggest and most important in La Liga, and as always, a match between both basically stops the football world.
It's probably time for Messi to go somewhere else
Going back to the Messi issue, as we said, he was forced to stay, and on top of that, Koeman was all over him after the team's loss to Getafe just a few days ago, questioning his intensity and commitment.
He does not look the same on the field, he was lost against Real Madrid, he's not leading the team as he should, he does not have his friends anymore, Neymar, Suarez, Xavi or Iniesta, and if we look at it closely, it's maybe just time for him to start making a new plan.
It was sad to see the first Clasico ever with no fans on the stands, but it's even sadder to think that this might have been Messi's last one at home, not only for the loss or the lack of fans, but because of the circumstances.
There is a lot of season to be played still, we're just getting started, with just 5 out of 38 games played so far for Barcelona, but it could be a really -really- long season for this team, if things don't get better between Messi and the organization itself. For the good of football in general, let's hope it does, and that we can see a bright and amazing last season for him in the team that made him a legend.