Your Guide to March Madness 2021
February 13, 2021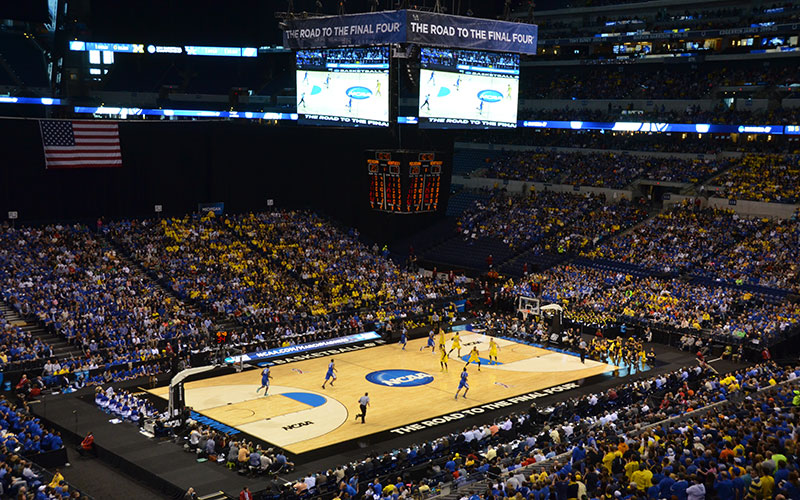 With the 2020 men's college basketball tournament cancelled due to the coronavirus, the NCAA wanted to take every step it could to make sure the 2021 version would be played. They did just that when they announced early in the regular season that this year's tournament would take place entirely in one location – Indianapolis.
The city was to host the Final Four this year and with a number of different venues available in and around the downtown area, the NCAA decided to move the entire tournament to Indianapolis. The move makes the tourney similar to the NBA's bubble last year in Orlando. The sole purpose, of course, is to ensure the tournament is played in its entirety despite the continuing coronavirus pandemic.
For fans, it will be a little different this year. All games will be held in the Indianapolis metropolitan area. The timing of some of the games will be different than in year's past too. When it's all said and done though, we will have a 2021 national champion. Here's what you need to know to follow this year's March Madness.
Selection Sunday
As it does every year, the NCAA will hold its Selection Sunday on March 14. The 68-team tournament field will be released on the annual Selection Show to be broadcast by CBS beginning at 6 p.m.
This year, geography will play less of a role in seeding teams as well as placing them into regions. The four play-in games, known as the First Four, will all be played on Thursday, March 18. In year's past, those games were played on the Tuesday and Wednesday prior to the First Round. Television coverage of the First Four games, which will air on TBS and truTV, begins at 4 p.m.
TV Coverage
The NCAA altered the schedule of this year's games with the First Four all being played on Thursday, March 18. First round games will be played on Friday, March 19, and Saturday, March 20. Second round games will then take place on Sunday, March 21, and Monday, March 22.
TV coverage for all first and second round games will begin at noon each day and the games will be broadcast by CBS, TBS, TNT, and truTV. The schedule has been arranged so that there will be at least one game being broadcast from noon until midnight each day of the first and second rounds.
All of the Sweet Sixteen games will be aired in their own television window on Saturday, March 27, and Sunday, March 28. The games will air on CBS and TBS, which will show two games in primetime each night. CBS will air the afternoon games on both days.
The Elite Eight games will again be split by CBS and TBS and each game will be aired in primetime. CBS will air the Monday, March 29, games starting at 7 p.m. TBS will show the Tuesday, March 30, games beginning at 6 p.m.
The Final Four will take place beginning Saturday, April 3, at Lucas Oil Stadium. CBS will air both semifinals beginning at 5 p.m. and then the championship game on Monday, April 9, beginning at 9 p.m. ET.
Venues
Lucas Oil Stadium, the host of the Final Four, will now be used to play some of the tournament's 67 games. Games will be played on two courts inside Lucas Oil Stadium, but only one game will be played at a time.
Other venues include Bankers Life Fieldhouse, the home of the NBA's Indiana Pacers. The indoor arena is located in downtown Indianapolis and seats 20,000. Also to be used will be Hinkle Fieldhouse, the home of Butler University's Bulldogs. Located in Indianapolis, Hinkle Fieldhouse was the U.S.'s largest basketball arena until 1950. The Indiana Farmers Coliseum, located on the state fairgrounds, will also be used for the tournament. It serves as the home of IUPUI basketball. Located in Indianapolis, it seats 6,800.
The only two venues being used that are not located in the Indianapolis city limits are Simon Skjodt Assembly Hall and Mackey Arena. Assembly Hall is the home of the Indiana Hoosiers and is located in Bloomington which is roughly an hour southwest of Indianapolis. Mackey Arena is the home of Purdue and is in West Lafayette, about an hour northwest of the city.
COVID-19 Measures
The NCAA has partnered with a Marion County (IN) health care provider to administer coronavirus testing for all players, athletes, staff members, and officials. The idea is to keep players in a central location and minimize contact with the outside world. All players will be staying on Marriott Hotels properties. The Marriott hotels are connected to the Indiana Convention Center where players will practice by skywalks. All teams will be housed on dedicated floors and travel via secure transportation.
While the NCAA is certainly taking the tournament seriously, it is lacking in one area. What happens if a team cannot field enough players because of the virus? The most likely option is a forfeit, though there has been mention of replacement teams in the first and second rounds.
Fans
There has been no final definitive answer yet on whether or not fans will be permitted to attend games. Senior VP of Basketball Dan Gavitt has said that fans will be allowed to attend, but they are still working with local health officials.
Lucas Oil Stadium did allow fans for Indianapolis Colts games this NFL season. Banker's Life Fieldhouse has not allowed any fans yet for Pacers home games. Hinkle Fieldhouse is the only venue in the city that does allow fans but at 25 percent capacity.
The NCAA had originally announced that six family members per player would be able to attend games in the local venues. The maximum number of spectators for any game would be 420. None of this has been confirmed and a decision on fans is expected soon.