SBA's NFL Draft 2021 Grades – The Top Ten
April 30, 2021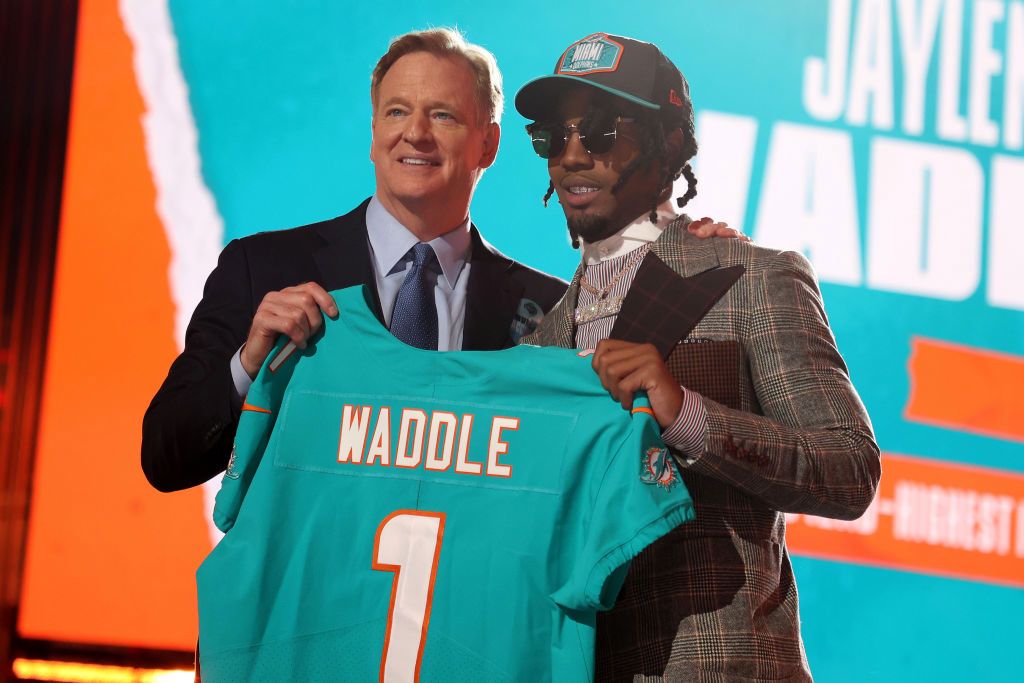 Day 1 of the 2021 NFL draft is in the books and it was everything fans had hoped. There was the no surprise first pick, a run on offense early, and even a trade into the top ten. The 2021 draft was live and in-person featuring NFL commissioner Roger Goodell and several of the top picks trading the customary handshakes and hugs that we missed in 2020 due to the coronavirus.
With Day 1 down, we look back at the top ten and grade each pick.
1. TREVOR LAWRENCE QB, JACKSONVILLE GRADE: A
It was about as sure a thing as the sun coming up tomorrow. Lawrence was projected as the No. 1 pick in this year's draft before the 2020 college football season. New Jaguars head coach Urban Meyer pulled the trigger on the highest-graded quarterback in an NFL draft since Andrew Luck. Lawrence has all the tools and will be a perfect fit for Meyer and the new Jags' offense.
2. ZACH WILSON QB, NEW YORK JETS GRADE: A
New head coach Robert Saleh and the Jets front office made it clear they were drafting a quarterback when they traded Sam Darnold to Carolina. The Jets loved what they saw in Wilson who has tremendous arm talent and confidence in his ability. He will fit nicely in the Shanahan-esque offensive system of Mike LaFleur.
3. TREY LANCE QB, SAN FRANCISCO GRADE: B
The 49ers traded up because they wanted to draft a quarterback. They decided on the 6-4, 226-pound Lance who played 17 games at FCS North Dakota State. If he pans out, this grade is an A, but right now Lance will still have to beat out Jimmy Garoppolo to see the field in 2021. Can he do that having attempted just 318 passes in his college career? Time will tell. – Check out our article on potential QB busts –
4. KYLE PITTS TE, ATLANTA GRADE: A
An absolute home run pick for the Falcons. QB Matt Ryan still has a few years left in the tank. Pitts, a 6-6, 245-pounder that runs 4.4 in the 40, gives Ryan another weapon to add to Calvin Ridley and Hayden Hurst. Pitts is the highest-drafted tight end in NFL history. In today's modern offense, he's exactly what you want in a tight end.
5. JA'MARR CHASE WR, CINCINNATI GRADE: D
The D grade has nothing to do with Chase's talents as a wide receiver. It has everything to do with the health of Bengals quarterback Joe Burrow. The Bengals QB missed the latter part of last season with a knee injury because Cincinnati's offensive line is awful. Why the Bengals didn't opt for Penei Sewell here is a big question mark. Yes, Chase gives Burrow a legitimate go-to receiver that can score any time he touches the ball, but you have to protect the quarterback before he can throw it.
6. JAYLEN WADDLE WR, MIAMI GRADE: A
Give the Miami Dolphins credit. They nailed this one. They have worked on their offensive line. The defense is solid, but they needed a game-breaking wide receiver to give to QB Tua Tagovailoa. The Dolphins got that in Waddle who scored 17 total touchdowns during his career at Alabama. Those touchdowns averaged 44.5 yards. He'll be used as a punt returner too and is comparable to Tyreek Hill.
7. PENEI SEWELL OT, DETROIT GRADE: C
Sewell is the best offensive lineman in the draft and it's easy to see why new Detroit head coach Dan Campbell went after him at No. 7. Campbell wants tough dudes and wants to build the Lions the right way. The problem is that they have worked on the offensive line in the offseason and could have really used a top wide receiver with the departures of four of the team's top five receivers from 2020.
8. JAYCEE HORN CB, CAROLINA GRADE: C
Horn is outstanding in coverage and he will add to a budding defense. The Panthers went all defense in last year's draft, which leaves many wondering why the Panthers didn't take a player to help new quarterback Sam Darnold.
9. PATRICK SURTAIN JR. CB, DENVER GRADE: C
Like Horn, Surtain excels in coverage just like his father, a long-time defensive back in the NFL. The issue with the pick is that the Broncos have longed for a franchise quarterback and both Mac Jones and Justin Fields were still available. Surtain will give head coach Vic Fangio another lockdown corner opposite Kyle Fuller, but will Drew Lock be capable of guiding the Broncos offense?
10. DEVONTA SMITH WR, PHILADELPHIA GRADE: C
Again, this grade has nothing to do with the ability of Smith, last year's Heisman Trophy winner. The Eagles will surely get a productive wide receiver to add to their offense. But, why did the Eagles trade up two spots with division rival Dallas? The Cowboys needs were more on defense (they selected LB Micah Parsons with the No. 12 pick). The Eagles gave up an extra third-round pick to move up to No. 10.