Dodgers Lose Young Pitcher to Tommy John Surgery
May 7, 2021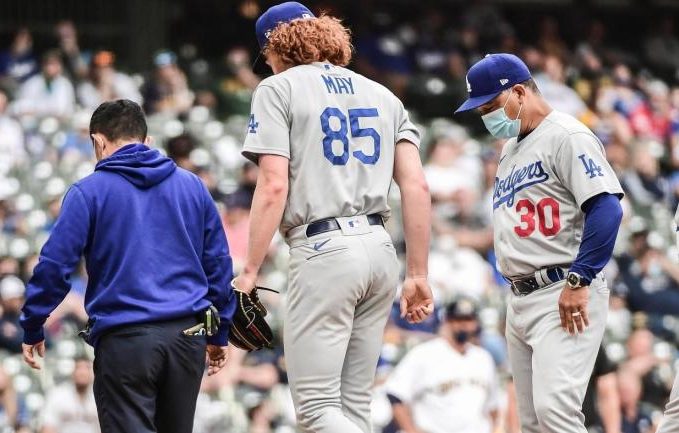 Injuries Continue to Plague Teams to Start the MLB Season
One of the best and most exciting young pitchers in baseball will now be out of action for at least a year. Dodgers pitcher Dustin May is scheduled to undergo UCL reconstructive surgery on May 11, putting him out well into the 2022 season.
Typically it takes some time to arrive at the decision to have Tommy John surgery because of the 15-month rehabilitation time, but the Dodgers and May wasted no time in choosing surgery. That would seem to indicate that the ligament in his pitching elbow suffered a significant tear.
May was fifth in National League Rookie of the Year voting last season, and in 2021, he'd seen his strikeout ratio jump to elite status, highlighting why he was such a highly prized prospect. But now, May's development will go on hold for more than a year, and the Dodgers find themselves in need of another starting pitcher.
Los Angeles began the 2021 season with the deepest pitching staff in baseball, so much so that former Cy Young winner David Price couldn't crack the rotation. But now Price is on the injured list, as is Tony Gonsolin, who would be another pitcher in line for starts.
The schedule works well for the Dodgers in that they won't need a fifth starter for the next couple of weeks. But with Price out for another month and Gonsolin in the minors trying to work himself into starter shape, Los Angeles might have to call on one of their prospects to fill in.
Don't be surprised if we see Josiah Gray or Mitch White promoted and making starts before the end of the month.
Meanwhile, betting markets haven't lost faith in the Dodgers who still sit atop the odds board to win the NL West at a steep -450 price, by far the steepest odds for any team to win their division.
White Sox Lose Robert to Hip Flexor Tear
The very high expectations of the Chicago White Sox for the 2021 season took another major hit this week when centerfielder Luis Robert was diagnosed with a grade three hip flexor tear. That means that the tear is complete, and he might need as many as four months off before resuming baseball activities.
The White Sox and Robert are still talking about the possibility of needing surgery, which would end his season. Normally an injury like this wouldn't require surgery, but since it is a complete tear and considered to be the most severe type of this injury, surgery is on the table.
Robert is only 23 and already one of baseball's brightest stars. He won the Gold Glove in centerfield in 2020 and finished second in American League Rookie of the Year voting. This season, he was slashing .316/.359/.463 and showing all the signs of having his true offensive breakout.
Even worse for the White Sox is that they are already missing fellow outfielder Eloy Jimenez with a ruptured pectoral tendon. Jimenez, only 24, was a Silver Slugger winner in 2020 and already has 45 career home runs in just 681 career at-bats.
If Jimenez and Robert are able to return this season, it won't be until late August or early September at the earliest.
Mets Fire Hitting Coaches
As things sit right now, the New York Mets are still the betting favorites to win the National League East at +120 odds. But it is definitely not because their bats are setting the world on fire. They are dead last in the National League in runs, hits, and home runs, and the very highly paid new Met, Francisco Lindor, has been abysmal at the plate.
Enter sacrificial lambs Chili Davis and Tom Slater, who have now both been fired. Davis was the hitting coach and Slater the assistant hitting coach, and since struggling players can't be fired, the coaches were. Davis was in his third season as the hitting coach in New York, while Slater was in his fourth season as the assistant hitting coach.
Hugh Quattlebaum is the new hitting coach, seeing a promotion from his position as the organization's minor league director of hitting development. He was the assistant hitting coach for the Seattle Mariners last season and worked in their minor league system for two years before that.
Kevin Howard was the Mets director of player development before being named the new assistant hitting coach. Prior to joining New York in 2021, Howard was the minor league hitting coordinator for the Indians for the 2019 and 2020 seasons.