Favorites to Win 2021 NFL Defensive Rookie of the Year
May 11, 2021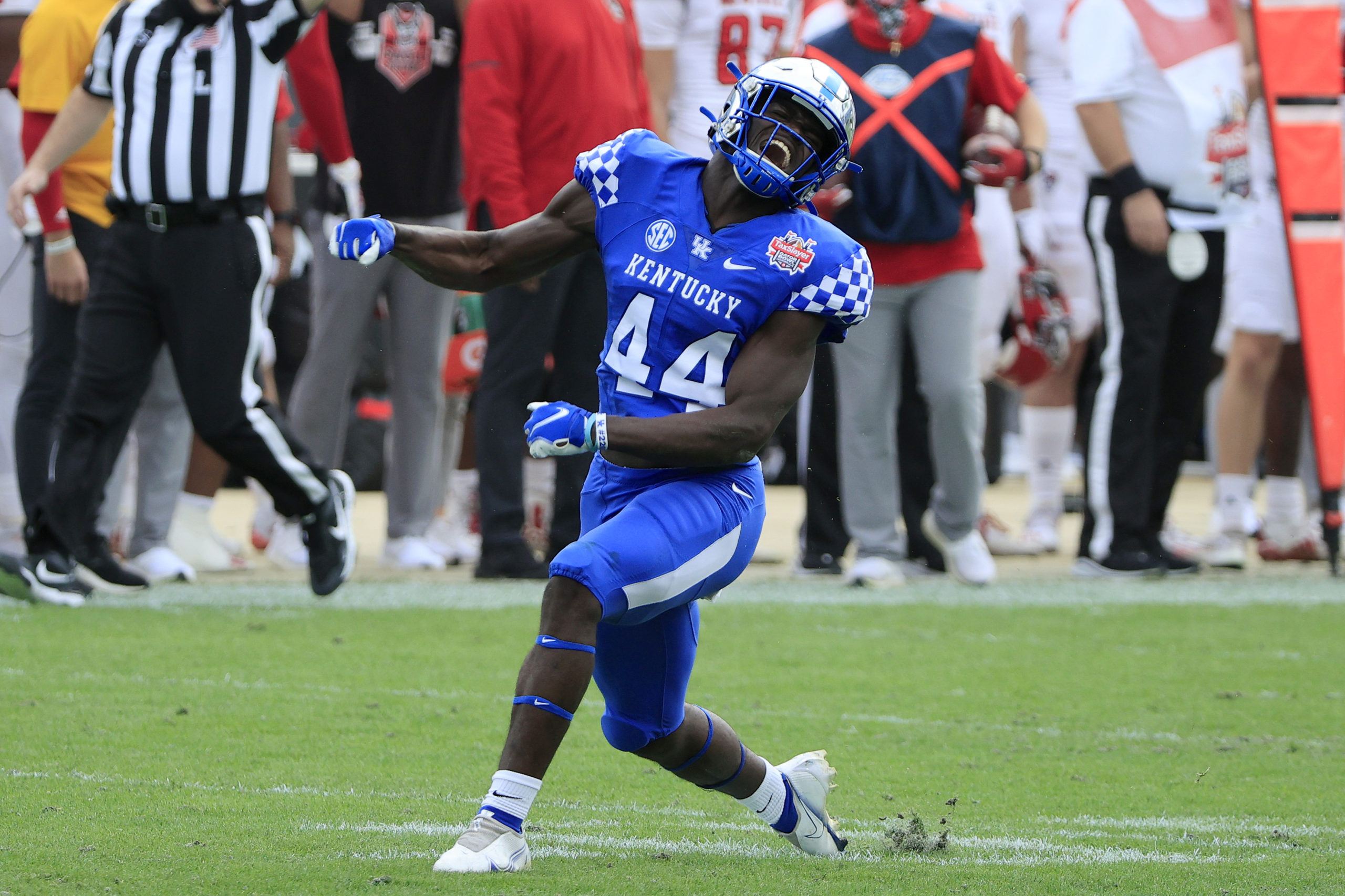 With the 2021 NFL draft having come and gone, the speculation now is on which rookies will make the biggest impact. We already know about the three quarterbacks selected No. 1, 2, and 3 in the draft. Top pick Trevor Lawrence is the favorite to win the NFL's Offensive Rookie of the Year.
What about defense? While there weren't as many immediate impact rookies on defense as there were on offense, there are a number of defenders that could make a splash in 2021. Those that can make the biggest splash are likely members of the defensive front. Four of the last five Defensive ROTY winners were either defensive linemen or linebackers.
Here's a look at the favorites to win this year's NFL Defensive Rookie of the Year.
The Unlikely Favorite
Jamin Davis was a 195-pound freshman at Kentucky not all that long ago. He blossomed into a 6-4, 235-pound linebacker who started just 10 games for the Wildcats. That was all NFL scouts needed to see. Well, that and his pro day where he ran the 40-yard dash in unofficial times of 4.41 and 4.37.
Davis is explosive, as evidenced by the 40 time and his 42-inch vertical jump, and is a big hitter, which can be seen on film. Fortunately for Davis, he will join one of the best defenses in the NFL in 2020 – Washington. Davis is listed at +400 to win the DROTY in 2021. Surrounded by the likes of Chase Young and Montez Sweat, Davis might find himself free to build a stat sheet worthy of winning the award.
The More Likely Favorite
Micah Parsons came out of Penn State where he was an All-Big Ten linebacker in 2019. He didn't play in 2020 opting out because of COVID-19, but Parsons impressed NFL scouts with a pro day to remember. At 6-foot-3-inches and 245 pounds, Parsons clocked a 4.39 40-yard dash. That's impressive for a wide receiver, but for someone of Parsons' size it's absolutely amazing.
Parsons is a freakish talent that Dallas will unleash to the NFL this fall. The Cowboys have some of the best linebackers in the league. Leighton Vander Esch will start in the middle and Jaylon Smith will start opposite Parsons. With DeMarcus Lawrence and Randy Gregory up front, new defensive coordinator Dan Quinn should be able to find ways to use Parsons' skill set.
Parsons is solid in the run game and he can defend tight ends or wide receivers in the slot. He is also capable of rushing the passer. At +500, Parsons could have the type of stat sheet that warrants a Defensive ROTY award in 2021.
Value on Defensive Ends
The last two – Young and Nick Bosa – DROTY awards were won by defensive ends. With their ability to rush the passer and cause all sorts of trouble, defensive ends are usually at the top of the list when it comes to end-of-season awards. Miami's Jaelen Phillips (+750) and Indianapolis' Kwity Paye (+1000) are two such players.
Paye is a real value pick. He'll play alongside DeForest Buckner, who led the Colts with 9.5 sacks last year. Paye is a shade under 6-3 and weighs in the 265 range, but he is blessed with 4.5 speed. He has a high motor and will have the opportunity to start all 17 games.
Phillips is in a similar situation in Miami where he will likely step in and start for the Dolphins. He will play in a 3-4 defense though and may be asked to also drop into coverage at times. Paye will play a true DE in a 4-3 and might be the better value bet here.
Don't Forget DBs
The only position other than DE or LB to win a DROTY in the last five years was CB Marshon Lattimore of New Orleans. There are two first-round corners that could make an immediate impact and garner DROTY honors this year.
Jaycee Horn (+1000) was drafted No. 8 by Carolina and Patrick Surtain II (+1200) went at No. 9 to Denver. Both players will probably be Game 1 starters. Surtain will be a great fit in head coach Vic Fangio's scheme and Horn, whose dad Joe was a standout NFL wide receiver, can do it all.
Wild Cards
Speaking of corners, keep one longshot in mind. Caleb Farley fell to Tennessee at No. 22 because of an injury, but he is the new breed of corner. He's big at 6-2 and nearly 200 pounds and is relentless in coverage. He's listed at +2500.
Another longshot to consider is Trevon Moehrig-Woodard who was picked in the second round by the Raiders. He's a 6-2, 205-pound free safety that won the Jim Thorpe award last year as the nation's best defensive back. He's given the same odds as Farley at +2500.