Braves Outfielder Marcell Ozuna Arrested for Domestic Violence
June 1, 2021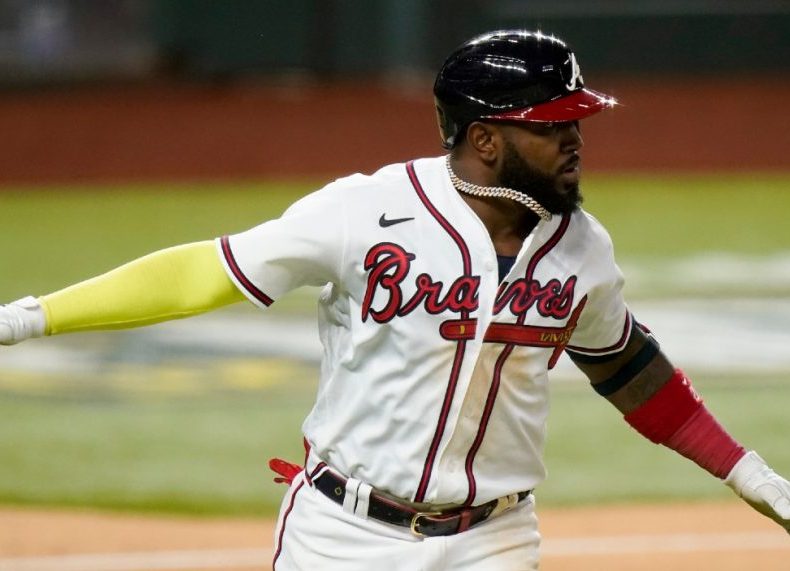 Over the weekend, Braves star Marcell Ozuna was arrested for an alleged domestic violence incident, as confirmed by both the team and police records. Fulton County records list the charges as an aggravated assault by strangulation and misdemeanor battery.
Upon arriving at the scene, the police report states that police heard screaming from inside the residence, and they entered the home and saw Ozuna "grabbing the victim by the neck and throwing her against the wall." In the report, he is also said to have "struck the victim with his arm, which has a cast from a previous injury."
Ozuna injured two fingers on his left-hand last week while sliding into third base and was placed on the injured list.
The police report states that Ozuna's wife, Genesis Guzman, "did have injuries but was not taken to a hospital."
Major League Baseball to Investigate
Because of Ozuna's current injury, the Braves aren't faced with the need to make any immediate roster moves. But Major League Baseball is investigating the incident, and it's possible that after Ozuna returns from the injury, he could face a lengthy suspension.
The Braves said in a statement:
"We learned of Marcell Ozuna's arrest earlier this evening and immediately informed the commissioner's office. The Braves fully support Major League Baseball's policy on domestic violence, which stresses to the fullest that our society cannot and will not tolerate domestic violence in any form.
"Until the investigation is completed, we will have no future comment."
The two-time All-Star is in the first year of a four-year, $65 million deal and has been down this road before, but on the other side. A year ago, his wife was arrested on domestic violence charges for allegedly hitting him with a soap dish in the face, causing a small laceration.
Her arrest came after police conducted a two-week investigation into the alleged incident.
Tough Weekend for Yankees
The weekend began for the Yankees with news that they would be without starting pitcher Corey Kluber for at least two months. But with Kluber still collecting second opinions on the strained right rotator cuff, it's possible it could be considerably longer.
Manager Aaron Boone thinks there might be an updated and final word on Kluber by Tuesday or Wednesday. "More comparing and contrasting. I think it could be complicated when you look at some of these MRIs and just getting different looks at it from a few different people."
Until that update comes, the Yankees will hope for the best but steel themselves for the worst, which could include season-ending surgery. Certainly Kluber's odds to win the American League Cy Young Award will drop from the current price of +3300.
As for New York, they were just swept in Detroit for the first time since 2000, and they will enter the month of June in third place. However, Luis Severino is still weeks away from returning from last year's Tommy John surgery, right-hander Clark Schmidt is a few weeks away as well because of a forearm strain, and first baseman Luke Voit is out for "a few weeks" with an oblique strain.
Trevor Story on Injured List
The last place Rockies aren't going anywhere this season, but All-Star shortstop Trevor Story very well could be by the trade deadline in July. With the Rockies in a rebuild following the trade of Nolan Arenado this offseason, Story is also likely on the move. But at the moment, he's on the injured list with elbow inflammation.
He's expected to have an MRI by Tuesday, and the Rockies will hold their collective breaths that their most valuable trade asset isn't injured further.
Story is a free agent after this season.
MLB Injuries Up Significantly
If it feels to you that injuries in 2021 are up from 2019, the last year we had a regular 162 game season, you're right. Even without including absences due to COVID-19, trips to the injured list are up a whopping 30% over 2019.
The Mets began this weekend with an incredible 17 players on the injured list, including five regulars. The Rays have 12 pitchers currently on the IL and yet somehow have managed to climb their way to the top. On the other hand, Indians starter Zach Plesac managed to break his thumb while taking off his shirt.