Julio Jones Traded to Titans
June 7, 2021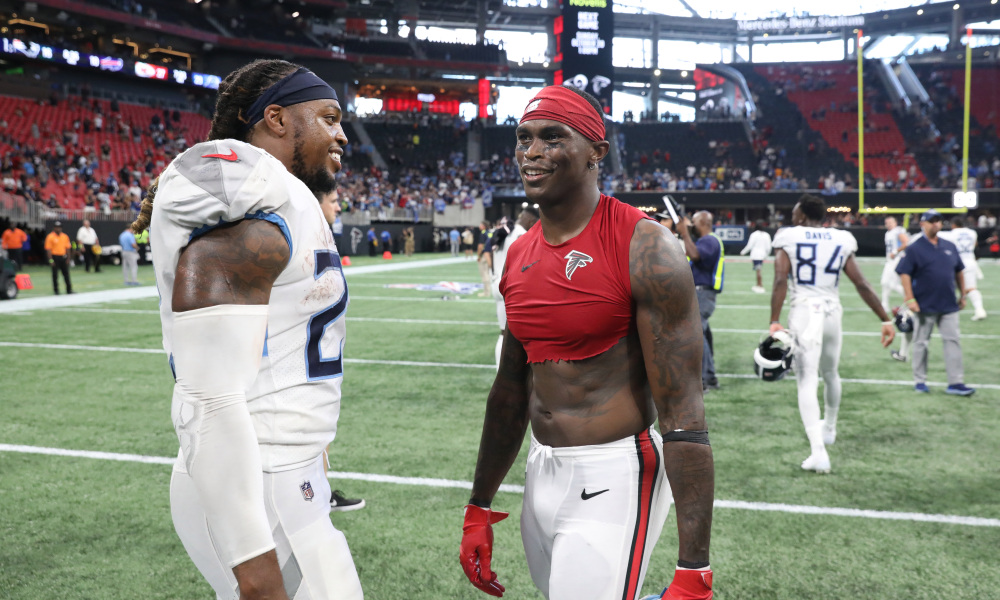 The anticipation of the Julio Jones trade is over. Instead, the two-time All-Pro wide receiver and one of the most dominant players over the last decade, is heading to Tennessee for a pair of draft picks. The Titans get Jones and a 6th round pick in 2023, and the Falcons get a 2nd round pick in 2022 and a 4th round pick in 2023.
Leading up to the trade, there were rumors that one of the sticking points was the $15.3 million owed to Jones this year, and the suitor for his services might be asking the Falcons to pick up a portion of the contract. However, that did not happen, and Tennessee will be paying his entire salary for 2021, plus the $2 million in guarantees he has for 2022. As a result, Atlanta will get the full salary cap relief it was seeking, minus the $7.75 million cap hit they were already going to take.
What This Means for Tennessee
It had been a lackluster offseason for Tennessee, with two of its stars of offense, wide receiver Corey Davis and tight end Jonnu Smith, leaving for other teams. So not only does the Julio Jones acquisition fill a significant need on offense, it puts a jolt into a fanbase that had cause for concern.
The defense in Tennessee has gotten better this offseason with the signing of outside linebacker Bud Dupree and defensive lineman Denico Autry. They also drafted cornerback Caleb Farley in the first round.
But to keep up with Kansas City, Buffalo, Cleveland, and Baltimore – all teams that Tennessee still trails in the most updated odds to win the AFC – they needed another weapon to go alongside wide receiver A.J. Brown and the NFL's best running back, Derrick Henry. They now have that in Jones.
Betting markets responded significantly to the move, adjusting the Titans' odds to win it all from +3300 to +2500. Additionally, their odds to win the NFC dropped from +1600 to +1200, while their division odds fell to even money from +115 the week before.
What This Means for the AFC
Every team that is on Tennessee's schedule will now have to figure out how to stop Derrick Henry without putting an extra safety in the box since he will now be needed to provide deep help on Jones. That will not be an easy task.
This move also has massive implications for the Colts. They seemed to be the runaway favorite in the AFC South, following the departures of Davis and Smith in Tennessee and the reunification of Carson Wentz and Frank Reich. Not so fast now. Indianapolis will still put up a great fight for the division, but the Titans' offense is now one of the best in the AFC. As a result, the Colts fell to second place on the odds board favored to win the division at +115.
What This Means for Atlanta
The Falcons could have had an unstoppable offense in 2021. Rookie Kyle Pitts is at tight end, and teaming him with Julio Jones, Calvin Ridley, Russell Gage, and Matt Ryan, would have been fun to watch. Now Ryan will need to find a new favorite target, and the rookie tight end will have to find his way without a future Hall of Famer helping to open up the middle of the field.
With Terry Fontenot as general manager and Arthur Smith as the head coach, Atlanta has a new regime in place. They took the positions this offseason, knowing the challenges. Their two best players, Jones and Ryan, were aging and expensive. And overall, their salary cap situation was an absolute mess.
Trading away a superstar is never an easy move, especially when it is your first notable move as GM, but it had to be done in the end. And now Atlanta can move forward with a rebuild instead of being stuck in the purgatory brought on by the need to rebuild and the desire to give it one last shot with your stars.
Arthur Smith is a talented offensive mind. As the offensive coordinator in Tennessee, he was brilliant in crafting an offense that worked with their specific set of players, mainly Derrick Henry. He will do the same in Atlanta, where the cupboard isn't completely bare. Until then, the Falcons sit second from last on the odds board to win the NFC South at a distant +700.
Kyle Pitts will still be a star at tight end. Calvin Ridley, coming off a 90-1374-9 season, is a legitimate number one receiver. And in the absence of Jones last season, 6th round pick Russell Gage emerged as a dangerous offensive weapon with 72 catches.
But Julio Jones was their face, and now he is gone.