Heisman Update: Corral Now Pushing Young for Favorite Status
September 30, 2021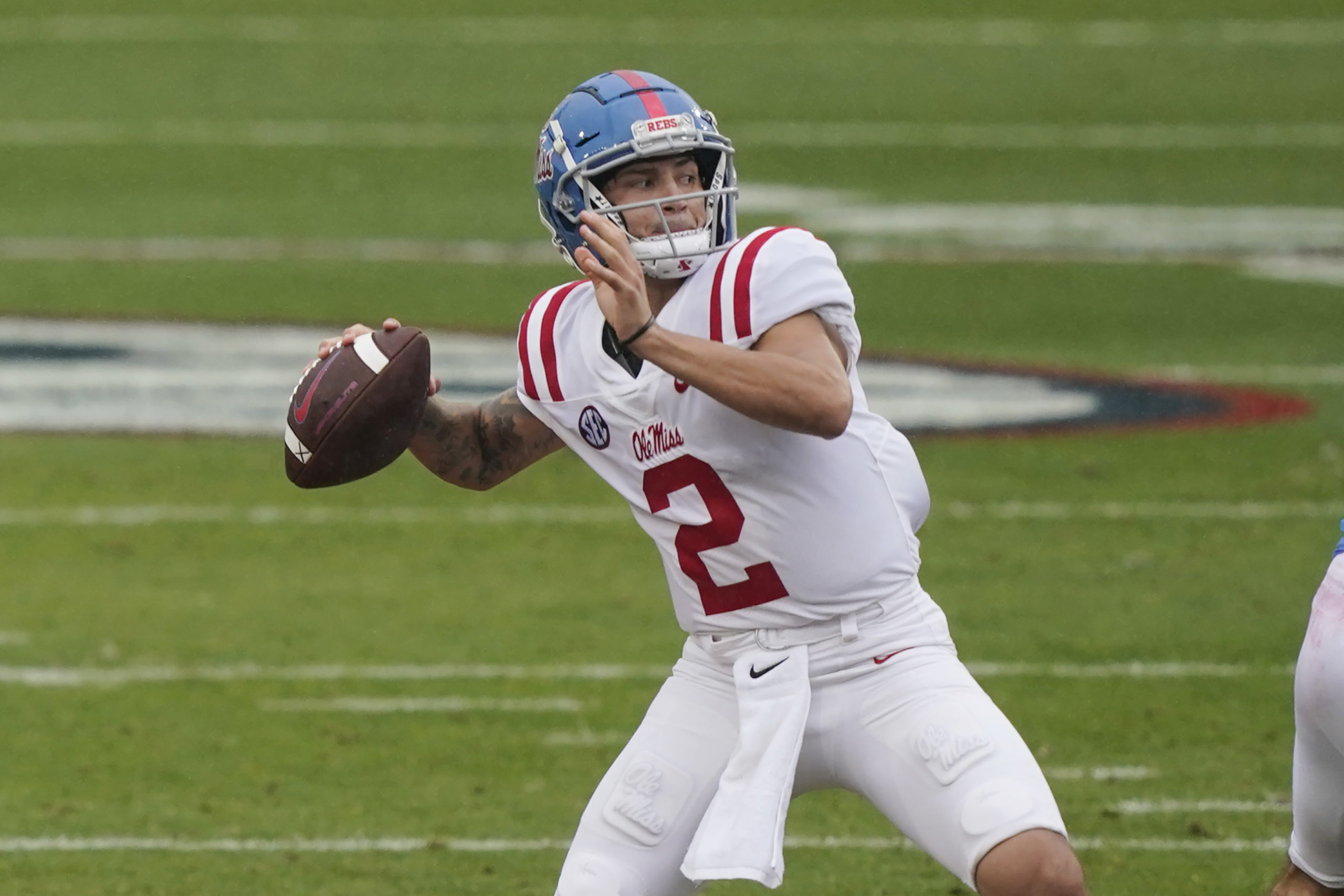 A month ago as the 2021 college football season began, Oklahoma QB Spencer Rattler enjoyed the role of Heisman Trophy favorite. After four games, that is no longer the case.
Yes, Rattler's Sooners are 4-0 and the Oklahoma quarterback does have pretty good numbers, but he has been removed as the Heisman Trophy favorite. In his place, not one but two quarterbacks have taken his place – Alabama's Bryce Young and Matt Corral of Ole Miss. 
Currently, both Young and Corral are given +180 odds to win the Heisman. That might change as the result of this Saturday's SEC showdown. That's right. No. 12 Ole Miss travels to Tuscaloosa to take on the top-ranked Crimson Tide. The outcome of Saturday's game could greatly impact the Heisman race.
As it stands, both Young and Corral, like Rattler, have led their respective teams to unbeaten records thus far. Alabama is 4-0 and Young has proven why he was the top quarterback prospect in the nation in his class. 
For the season, Young has completed an impressive 72.1 percent of his passes for 1,124 yards and 15 touchdowns. What is even more impressive – and something that his head coach Nick Saban certainly loves – is that Young has thrown just one interception. 
The Tide offense hasn't really missed a beat after losing Mac Jones to the NFL after last season. Alabama averages 46.5 points and 465.5 total yards per game. Take last week as a great example of what Young is capable of. In a 63-14 blowout win over Southern Miss, Young completed 20-of-22 passes for 313 yards and five touchdowns. That is why he is one of the favorites to win the Heisman.
Then, there is Corral. A top recruit out of California, Corral picked Ole Miss over the likes of USC and many more. He backed up Jordan Ta'amu his first season and became the starter in 2019. He now leads the best offense in the country.
Under the guidance of head coach Lane Kiffin, who spent a few seasons as Saban's offensive coordinator, Corral and the Rebels average 52.7 points and 635.3 yards per game. Both numbers are the best in the country. Helping to fuel the fire is the nation's fourth-best rushing attack. Running for 298.7 yards a game has helped Corral open up the passing game. 
Through three games, Corral has completed 68.8 percent of his passes for 997 yards and nine touchdowns. He has yet to throw an interception. What Corral is capable of was evident in the Rebels last game, which was played on Sept. 18. In a 61-21 win over Tulane, Corral accounted for seven touchdowns. He passed for three and ran for four more and did it in three quarters of play. That's why Corral has risen up the Heisman betting board so quickly.
With all of the fireworks provided by Corral, Young, Ole Miss, and Alabama, Rattler has fallen way out of Heisman contention. He was most recently listed at +2500 to win. His fall is more a result of his team's performance the past two weeks. Yes, Oklahoma is unbeaten, but they only beat Nebraska 23-16 and then the Sooners struggled against an unranked West Virginia last week winning 16-13 thanks to a last-second field goal.
The only other player given a realistic chance at winning the Heisman is Cincinnati quarterback Desmond Ridder. Cincinnati is 3-0 and Ridder has completed 54-of-83 passes for 748 yards and seven touchdowns. Like Corral and Young, Ridder will also have a chance to make a statement this week. His Bearcats will travel to No. 9 Notre Dame. A stellar performance there would only enhance Ridder's standing. Currently, he is the only other player listed at or below +2500. Ridder's odds to win this year's Heisman Trophy are +1800.
Heisman winners typically come from among the best teams in the country. The last two winners, DeVonta Smith and Joe Burrow, came from the eventual national champion. Saturday's Alabama-Ole Miss clash will go a long way in determining who wins the Heisman. The winner's quarterback will have a better shot at an SEC title, a national title, and ultimately college football's most coveted award.