Will Virginia Ever Win Another College Basketball Championship Under Tony Bennett?
January 26, 2022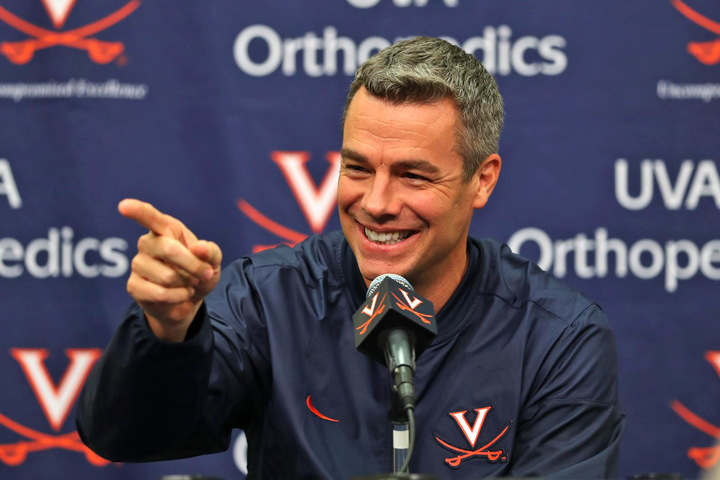 It's hard to win college basketball national championships. In a Hall of Fame career that now spans six decades, Duke head coach Mike Krzyzewski has five. Virginia's Tony Bennett got his first at the end of the 2018-19 season. That came one year after becoming the first No. 1 seed to ever lose a first-round game in the NCAA tournament. 
With one in his back pocket already, can Bennett ever lead Virginia to another college basketball championship? There are plenty of good reasons to believe he can.
Defense
It all starts with defense. The Pack Line defense that Bennett's father Dick started years ago has been perfected and is one of the most difficult for offenses to decipher. There is the saying "defense wins championships" and that is true to a certain point in basketball.
In a typical season under Bennett, it is rare for Virginia opponents to score more than 70 points in a game. In fact, over the past six seasons, Virginia allowed an average of over 60 points in just one season. That was last year when the Cavaliers allowed 60.5 points per game which was still good for third in the nation.
In the four seasons previous to 2020-21, Virginia allowed averages of 52.4, 56.1, 54.0, and 56.4 points per game. All four marks finished their respective seasons as the best in the nation. Virginia under Bennett is a very good defensive basketball team and, as a result, will always be in games.
Not This Season
The Cavaliers will always be in games, but they won't always win them. This season could be the first time since the 2012-13 season that Virginia fails to make the NCAA tournament. The Cavaliers are currently 12-8 overall and 6-4 in ACC play. They do have some solid wins – Providence and Virginia Tech – and a one-point loss to Iowa, but projecting Virginia in this year's tourney right now is a stretch.
Bennett and company will have the opportunity to change the minds of everyone with two games against No. 9 Duke. They also face Miami (14-5) twice and Florida State (13-5) before the season is over. The big issue for Virginia is simply scoring. The Cavaliers average just 62.6 points per game which ranks 321st out of 358 teams. 
Build the Roster
Bennett does an excellent job of bringing in recruits that he can develop within his system. The Cavaliers aren't Duke or North Carolina and rarely get four- and five-star players to come to Charlottesville. What Bennett does get though are players that stick around for a few years and buy in.
Every so often, Bennett finds some gems like Malcolm Brogdon or De'Andre Hunter, but often these players take some time to develop. Anthony Gill, Kyle Guy, and Joe Harris are all former players for Bennett that are now in the NBA. 
It will take some time, but Bennett will eventually lure the right players to Virginia. He will get them playing outstanding defense and he'll recruit the right mix of scoring potential. In the end, Bennett and Virginia will have another shot at a national title before their head coach calls it a career. Bennett is only 52 years old.