Who's Left Riding the Quarterback Carousel?
March 22, 2022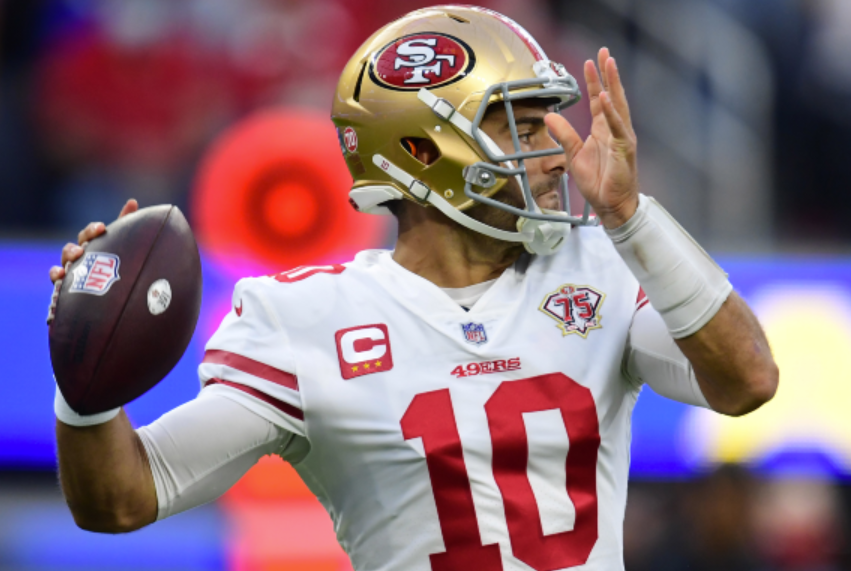 It seems like ages ago that the biggest quarterback question the NFL odds faced was the future of Aaron Rodgers in Green Bay.

He didn't go anywhere, but others did.
So, let's see which teams now have quarterbacks, which teams don't and which quarterbacks still might be on the move. All this to keep you ready for online gambling on the NFL season. 
The Browns, Deshaun Watson and Baker Mayfield
A year after Baker Mayfield won the first playoff game for Cleveland in 27 years, the Browns soured on him. Pursuing Deshaun Watson caused Mayfield to ask for a trade. Watson told the team "no," and the team then told Mayfield "no," too.
Twenty-four hours later, that turned on its head, when Watson decided he wanted the Browns, and not coincidentally the most guaranteed money in league history. That destroyed any possible leverage Cleveland might have in a trade of Mayfield, should they decide to grant that request.
Of course, the very reason Watson's guaranteed contract is so surprising is also why they may still need Mayfield this season. Most people expect Watson to face a significant league suspension. Jacoby Brissett is now with the team, and he could fill in for a suspended Watson. However, that further undermines any leverage the Browns might have. If they trade Mayfield, they'd receive an incredibly low return. Remember that when paying attention to NFL predictions for the year.
Whoever is the Browns' quarterback in the first week of the season, currently they're at 16-1, or +1600, to ship the whole thing according to Super Bowl odds.
If you wish to take a flier on Watson, he's at 18-1, or +1800, to be the next regular-season MVP, according to NFL odds.
 Which Teams Might Want Mayfield?
The Colts were one possible landing spot for Mayfield, but Indianapolis just traded for long-time Atlanta Falcon Matt Ryan. There's no more room in that room.
The Falcons quickly filled the void left by the Ryan trade, signing free-agent Marcus Mariota. Mayfield might compete for the job in Atlanta, but the Falcons appear to be a team finally embracing the rebuild. Thus, a one-year rental that you'd have to surrender draft picks to acquire doesn't seem likely.
The New Orleans Saints were on the list as well, but they just re-signed Jameis Winston with $21 million in guaranteed money. Taysom Hill is still there, so New Orleans is out of the picture.
Seattle's still possible, but with Drew Lock on the Seahawks' roster and the possibility of re-signing Geno Smith, taking a chance on Mayfield's surgically-repaired shoulder isn't feasible.
Carolina may feel as if it's already dipped a toe into the highly-drafted reclamation waters with Sam Darnold. There's no reason for the Panthers to replay with that failed move a second time.
At $18 million for the final year of his rookie contract, it's possible there will be no takers. With that $18 million in dead money if the Browns release him, it's possible he spends all of next season in Cleveland as a very unhappy camper. 
Is There a Home For Jimmy Garoppolo?
Word is that the San Francisco 49ers have an offer in hand, a pair of second-round draft picks for quarterback Jimmy Garoppolo.
That's no doubt being put out by the team, because as we look at the board of possible landing spots and the way his value has fluctuated since the end of the season, it's difficult to believe even one second-round pick is on the table.
Jimmy G. is due to make $26.9 million this season. That is starter money in a market that is short on teams looking for a starter. Again, Carolina is a possibility, but they're paying Darnold $18.8 million. That's a lot for two quarterbacks who won't get them to the playoffs.
Seattle's a possibility, if the Seahawks weren't a division rival. It's not that divisional trades never happen, but it's highly unlikely in this case.
The Pittsburgh Steeler quarterback room isn't ideal, with Mitchell Trubisky and Dwayne Haskins. Garoppolo was known to be available when the Steelers signed Trubisky, and they chose Trubisky.
There's a big Garoppolo cap number on his current deal, but the dead cap hit is small. So if the 49ers can't find a taker, they can cut him and avoid the painful consequences.