Who Will Start Game 1 at QB for Atlanta, Carolina in 2022?
July 18, 2022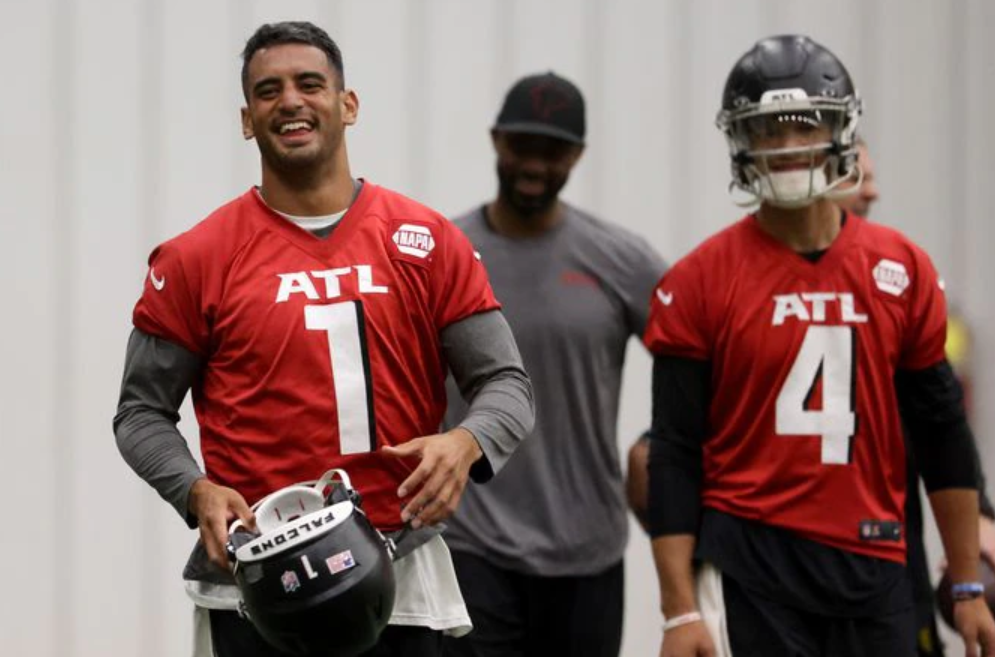 NFL teams head to training camp beginning this week with the rookies for several teams reporting by Saturday. It won't be long before preseason games will be taking place. Two of the more interesting quarterback situations will take place in the NFC South.
Both Atlanta and Carolina will have quarterback competitions. Long-time Falcons starter Matt Ryan was traded to Indianapolis and, in one of the off-season's biggest moves; Cleveland traded Baker Mayfield to Carolina where the quarterback room could get crowded.
Who will start when the 2022 NFL season kicks off on the second weekend of September? Here's a look at the odds on who will start for Atlanta and Carolina in Week 1.
Real QBs of Atlanta
With Ryan gone, the Falcons made a move for former No. 2 overall draft pick and Tennessee Titans starter Marcus Mariota. Mariota was the second overall pick in the 2015 NFL draft and would become the Titans starter as a rookie. He would lead Tennessee to three straight winning seasons.
In 2019, he was benched in Week 6 and Ryan Tannehill took over as the starter with Mariota the backup. Mariota left the following season and backed up Derek Carr in Las Vegas. 
Now, Mariota has an opportunity to prove that he really is a quality NFL starter. His competition in Atlanta will come from third-round draft pick Desmond Ridder, a four-year starter at Cincinnati. He led the Bearcats to the College Football Playoff becoming the first Group of 5 school to ever do so. 
Falcons QB Odds
Mariota is the overwhelming favorite to start in Week 1 for the Falcons at -800 odds. It's hard to believe that Atlanta would opt for a third-round draft pick to start over a guy who has 61 career NFL starts. The Falcons went out and sought a guy who could come in and start right away even if they were planning on drafting a quarterback (which they did).
Ridder could become a very good one. He's got tremendous athletic talent and he is very bright. He has plenty of college game experience, but he is still a rookie. Plus, he's not a first-round rookie, so there is no pressure for Falcons head coach Arthur Smith to play Ridder right away. That's why Ridder is given +550 odds to start in Week 1. Ridder may start a game (or more) in 2022. It just won't be in Week 1.
Baker Could Be Finah in Carolina
Congrats on those who bet Mayfield to Carolina odds at (+275). The hope is that Mayfield is the guy. There's no question. He's given -1200 odds to be the Opening Day starter for the Panthers. There was a reason why Mayfield and not Darnold was the first pick in the 2018 NFL draft. It was Mayfield – not Darnold – that won several Rookie of the Year awards in 2018 and it was Mayfield that led his team to the playoffs in 2020 and to the Browns first road playoff victory since 1969.
Darnold struggled with the Jets and then was traded to Carolina in 2021. He missed a couple weeks with an injury and ended up starting 11 games last season. He completed 59.9 percent of his passes for 2,527 yards and he threw more picks (13) than touchdowns (9). Darnold is listed at +600 at top online sportsbooks to start in Week 1. He will likely be the Panthers No. 2
Carolina also drafted a quarterback – former Ole Miss QB Matt Corral. He's given +5000 odds to start in Week 1 and then there is the wild card – Jimmy Garoppolo. It's being speculated that Garoppolo will be traded by the 49ers, who will turn the offense over to last year's first-round pick Trey Lance. Could he end up in Carolina? Maybe. If he does, his odds to start in Week 1 are long – as in +10000 long.