Updated Sportsbetting.ag Review
September 26, 2022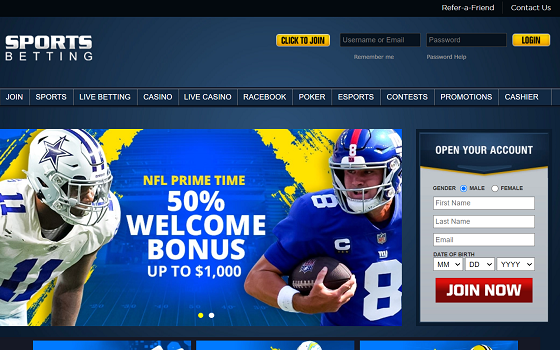 Sportsbetting.ag has been a featured sportsbook on our site, in some shape or form, since our inception way back in 2007. That's because the sportsbook is top notch in several areas, namely: bonuses, customer service, lines and lightning fast payouts.
Its gaming service is available to anyone who likes sports wagering and from most anywhere in the world. Sportsbetting.ag also takes pride in the fact they offer live betting, sports, casino and contests. Also, this site offers numerous bonuses to those who have newly signed up as well as for those who are considered established patrons of the site.
Promotions and bonuses are constantly offered by the site for up to a fifty percent free play bonus. As for those playing in the casino, players can enjoy as much as ten percent in casino rebates.
Sportsbetting.ag operates under BetOnline, whose name is very much well known in the gaming industry, and these two companies have tenure in the industry. They are considered to be one of the top and trusted companies that remain operational today. The great news is that you can have a separate accounts at both books and take advantage of bonuses from both without causing any problems. They allows this.
The sportsbook options that they offer run in a variety of types including baseball, basketball, boxing, football, golf, cricket, martial arts, rugby and yes, even esports. All these options for sports wages also come in different betting types and because of the many choices, the player is guaranteed a solid experience. And because Sportsbetting.ag realizes that time is of the essence, a live betting feature is available for anyone who is looking for more thrill and excitement. In this live betting platform, bettors are allowed to wager their bets all while the action is taking place. This provides for real time action and the changes that can be made applies in real time as well. It is an interactive platform and provides for easy access and management.
SportsBetting offers the "classic" look, a layout like BetOnline used to have. Many customers prefer this layout. They find it easier to use.
Sportsbetting.ag does not fall short in keeping the players secured, safe and satisfied in terms of ease and convenience.   As for the payout for winnings or extra funds in the account, Sportsbetting.ag takes pride in its efficient and easy method of providing payouts to the players. They do this by using an automated system which doesn't require a human to process it. The payout is requested and within minutes the money hits your wallet.
Go to Sportsbetting.ag