2022 Heisman Trophy Odds Update – New Pick
September 27, 2022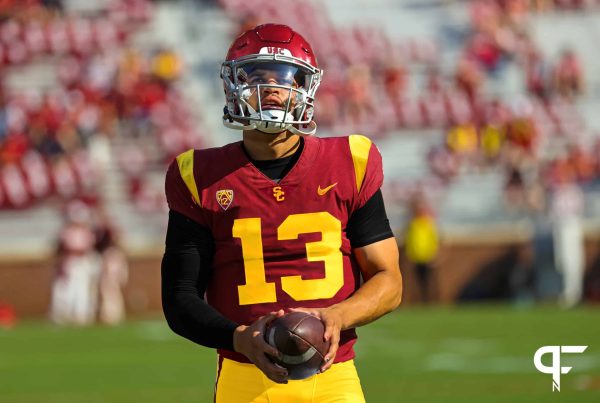 One-third of the 2022 college football season is behind us. Programs will shift gears as they begin playing conference opponents. At present, three quarterbacks appear to be the front-runners in the race of this season's Heisman Trophy. 
A fourth quarterback appears ready to leap into the mix and create some drama among the top five. Ohio State's C.J. Stroud remains the overall betting favorite, but the rest of the pack is making things quite interesting.
Stroud Still the Man
He's definitely the big man on campus in Columbus. Stroud, who is given +125 odds to win the Heisman at a leading online sportsbook, has led the Buckeyes to four straight victories to start the 2022 season. Stroud has completed 79-of-112 passes for 1,222 yards and 16 touchdowns so far this season.
The Ohio State offense is averaging 48.8 points per game and the Buckeyes are coming off a huge 52-21 win over Big Ten rival Wisconsin. The Buckeyes head into a stretch where Stroud can pad his numbers – Rutgers, Michigan State, and Iowa. The big games remaining are against No. 11 Penn State on Oct. 29 and the season-ending rivalry game with Michigan at home on Nov. 26.
Repeat Winner?
Alabama's Bryce Young is the reigning Heisman winner. He's off to a strong start in 2022 as well. The Crimson Tide is ranked No. 2 and Young has padded his stats over the last two weeks. Alabama beat UL-Monroe 63-7 and Vanderbilt 55-3 in its last two games. 
Young, who is given +500 odds, has completed 68.6 percent of his passes for 1,029 yards and 13 touchdowns. He has also averaged 9.4 yards per carry and has two rushing touchdowns. The Tide face three straight ranked opponents – No. Arkansas, No. 17 Texas A&M, and No. 8 Tennessee. Those three games could play a huge part in the final Heisman voting.
This weekend will be a huge test in our opinion. Arkansas is really good and they are at home. We estimated the line should be about Alabama -14 but it is actually -17.5 points. As we wrote in our Arkansas season preview, if Alabama is favored by a lot, take Arkansas. That is our play on this game, Arkansas plus the points. Can the Razorbacks win it outright? Possible. Stranger things have happened. Why not put a 20 on it just in case?
USC's Williams 
USC has started the 2022 season 4-0 thanks, in large part, to the play of its QB Caleb Williams. The Oklahoma transfer is 80-for-122 for 1,054 yards and nine touchdowns. He and his coach Lincoln Riley have fueled a small revival of the Trojans historic program. 
USC is ranked No. 6 in the nation and could very well play for a Pac-12 title and a potential College Football Playoff berth. Williams (+600) is the only other player given better than +1000 odds. Right now we actually like Williams to win it. The way USC has been turned into a juggernaut and his stats and leadership is second to none. You can bet hime to win it now +600 at BetUS.com
Hooker on the Rise
Before last week's win over Florida, Tennessee QB Hendon Hooker was listed at +5000 to win the Heisman. After his performance and a Vols' victory, Hooker is now fourth on the board at +1600. Hooker went 22-of-28 and finished the game against the Gators with 461 total yards and three touchdowns. 
Hooker doesn't have the season stats – 844 passing yards and six touchdowns – of some of the other quarterbacks, but he will have the opportunity to make a name for himself as he and the Vols navigate the SEC schedule. Tennessee has remaining games against No. 2 Alabama, No. 7 Kentucky, and No. 1 Georgia.
Best of the Rest
Two players to watch include Kansas State QB Adrian Martinez and Kansas QB Jalon Daniels. Martinez saw his odds drop from +12000 to +4000 after he virtually single-handedly led the Wildcats to an upset win over Oklahoma. 
Daniels' odds went from +6000 to +3000 after the Jayhawks won their fourth straight game to open the season. Kansas hasn't been 4-0 in a long time. Daniels is electrifying with 890 passing yards – 71 percent completion rate – and 320 rushing yards. He has 15 total touchdowns.