2022 Arkansas Football Preview
August 24, 2022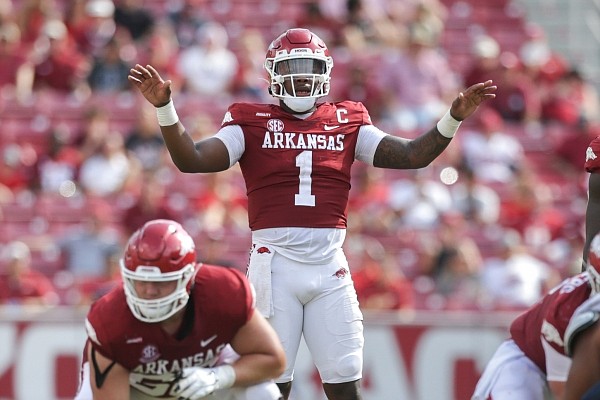 The SEC is the toughest football conference in college football. Its really not even debatable at this point. When you have teams like Arkansas considered "middle of the pack" that's how you know how good this conference is.
The Razorbacks finished 9-4 last season and .500 in the SEC with a 4-4 in-conference record. Head coach Sam Pittman is in his third year and great progress has been made in that short time.
Offense
Senior QB KJ Jefferson is the real deal. He is a big kid with a strong arm and throws accurate passes (67% completion rate). He threw for 21 TD's and just 4 INT's last season. See his stats here. Receiver Traylon Burks headed off to the NFL but his spot will be filled by transfer Jadon Haselwood from Oklahoma.
The running game is paramount for the Razorbacks. Last season this team led the SEC is rushing. That is really saying something. The OL is anchored by Center Ricky Stromberg and guard Brady Latham. Look for them to keep pounding the rock down the field in 2022.
Defense
In 2022 the defense left something to be desired. They allowed on average over 400yards per game. You cannot compete for championships allowing that kind of yardage. On the edge Zach Williams will lead the team in the pass rush. he had just 3.5 sacks last year. Look for that number to improve this season.
LB Bumper Pool has a strange name but is one of the best LB's in the conference. Alabama transfer Drew Sanders will join him to back the line.
The secondary is looking better thanks to incoming transfers Latavious Brini & Dwight McGlothern. Last season the 'Backs took away 13 passes. They want to improve that number this season.
2022 Arkansas Schedule
-sponsored by BetUS – Get a 125% Bonus by using promo code SBA125
Arkansas's schedule is very tough. They have a good team but they are playing a very challenging team almost every week.
Sept. 3 CINCINNATI – The Bearcats have been building and are good. But they lost star QB Desmond Ridder to the draft. Arkansas will prove to be too tough for the Bearcats. Arkansas is currently -6.5 at SBAodds.com
Sept. 10 SOUTH CAROLINA – The Gamecocks should not be to much trouble for the Razorbacks.
Sept. 17 MISSOURI STATE – Mizz State will get crushed by this team.
Sept. 24 vs. Texas A&M (Arlington) – This one could easily go either way. The Aggies will be favored so take the points.
Oct. 1 ALABAMA – The good news is that Arkansas gets this juggernaut at home. Can Arkansas beat Alabama? Yes. But everything will have to go their way to get this done. If Alabama is favored by 8 or more points take Arkansas, except if KJ Jefferson is out.
Oct. 8 at Mississippi State  – We like Arkansas to win this game against a good Miss State team.
Oct. 15 at BYU– This is a tough one. If it were at home I would say take the Razorbacks. But its in Utah so I like BYU to win straight up.
Oct. 29 at Auburn – This should be a win for Arkansas.
Nov. 5 LIBERTY – The Flames have been building but without their star QB Malik Willis (drafted by Tenn Titans) they have no chance. Arkansas with the easy win.
Nov. 12 LSU – LSU is a tough matchup for certain. But this game is at home and LSU isn't quite as good as they were a few years ago. Take the 'Backs.
Nov. 19 OLE MISS – Arkansas should win this game.
Nov. 26 at Missouri – Arkansas should win this game.
Conclusion and Total Wins
The Arkansas Razorbacks should be a load this year. They really can beat any team on their schedule if the ball bounces in their favor. Still, we see Arkansas winning 9 or 10 of their regular season games. This number is much higher than the total win over-under of just 6.5 wins. The OVER is a slam dunk as far as we are concerned.
Odds for this team to win the national title are sitting at +15000 and odds of them winning the SEC are +6600 at SportsBetting.ag