Wager6 Sportsbook Review
October 25, 2022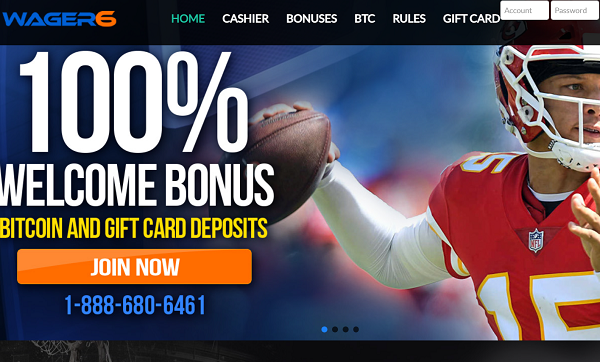 Wager6 popped up on our radar last season. They hit the market with large bonus offers, at one point going as high as 200%. This year they dialed it back a bit with a 130% cash bonus with a 12 time rollover. These are pretty generous bonus offers by industry standards. Note: The bonus offered on their site is 100%. We were offered 130% in an email.
Best we can tell, Wager6.ag is a small operation located offshore, San Jose Costa Rica to be exact. Their domain name was registered in 2019. When logging in the user is redirected to wager6.net
Wager6 accepts cryptocurrency and credit cards for deposit. They allow players to withdrawal their funds using BTC, ETH, Litecoin & Moneygram. Payout limits: Minimum $20 – Maximum $5000
Our secret shopper has discovered some limitations which have hampered their play. These were limitations not encountered at the more well-known well-established sportsbooks. For instance, there is a $500 max underdog moneyline on college football. The player tried to place the wager at +115 for $600 but received the limit message.
In MLB baseball, our player tried to place a three-team underdog parlay. They received an error message that Wager6 only allows up to 2 teams for underdog parlays. We have not encountered this before. If anything, we have only seen risk amount limits on 3+ teamer underdog parlays.
Sports and Games Offered at Wager6
You can find all the major sports to bet on here:
football
basketball
baseball
soccer
boxing
They also offer:
digital casino
live casino
Canadian football
horses
virtual sports
Our shopper tested the live wagering option during an NFL game. The game was at commercial and the bet appeared to be available. The player was not able to get the live wager in and tried for 5-10 minutes. The software simply was not accepting the wager. The player then messaged customer service who said "next time take a screen shot". The customer actually did take a screen shot and sent in. They said they would investigate. The customer never heard back about the claim. The bet would have won.
When we type wager6.ag into our browser it takes 5-10 seconds for the website to load. This happened in every one of our tests. If you type in wager6.net however, it loads almost instantly. There are links available on this version of the site that are not at the .ag version. Mainly, there is a link for "agents". This means they allow agents to accept wagers from their clientele by sharing the backend technology and using a separate domain name and skin for the site.
Wager6 Live Betting Problem Update: It appears that the live betting option does not work in Google Chrome. You have to use another browser. It worked when we tested it in Microsoft Edge.
Strange Odds
We tested buying points on a football game. One game had a favorite at -3.5 points. When we went to buy a point to bring it down to -2.5, it kicked the moneyline up to -170. The moneyline for the straight up win was only -165. Why would anyone ever buy a point here at an extra -60?
Payouts
Apparently Wager6 charges a 4.5% fee to get your withdraw your winnings. So, if you are requesting $2000 you will be paying them $90 just to click a few buttons in their crypto account. No free payouts like offered at most every other sportsbook online.
From customer service regarding payouts: "once approved, they can take 48 business hours and are only process Mon to Fri."
Our secret shopper requested a payout and heard nothing from the company in 53+ hours. They then went onto the live help button (see below). They were told they did not reach their rollover requirement. However, there is no rollover meter at the site, something which is becoming more available at online sportsbooks. We were told players must email [email protected] to inquire about their rollover balance.
Update 11/7/22: Secret shopper requested payout and did receive one. It was received 6 days after requested. The amount was just under $1,000. This proves that the sportsbook does pay out, at least for this customer. 6 Days is not considered a good payout time in 2022.
No Customer Service Within Betting Area, Only Feedback Button
This would be a helpful option when you have a problem like our secret shopper faced with the live betting. To be considered a upper echelon sportsbook in today's atmosphere you have to offer live chat for players facing an issue like the one mentioned above with live chat.
Original article update: We found there is live chat but you have to be logged out and click the chat button on the homepage.
Conclusion
This sportsbook seems to be operating by the seat of their pants, so to speak. Limits placed on simple parlays and moneyline underdogs, coupled with buggy software which won't allow bets to be placed make for an unpleasant betting experience overall.
The large bonus offers, wager limits, buggy software, lack of customer service options and our lack of having feedback on payout success has us placing a D Rating on this book until more information can be gathered. This is the introductory rating and if the site improves and we get some good payout feedback we will certainly raise the rating. Right now the advice is to tread lightly with this sportsbook and don't keep a large bankroll there if you decide to play at Wager6. It's simply too much of a risk at this point in time.
If you have real-life experience with this sportsbook please feel free to provide us with your feedback.