The Midseason Quarterback Shuffle
October 27, 2022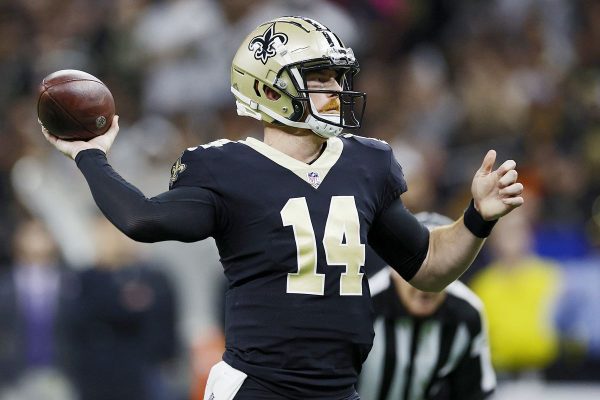 The New England Patriots went into their Monday night game with the Chicago Bears in an enviable position at quarterback. Their Rookie of the Year of a season ago, Mac Jones, was on the sideline with an injury, but the emergence of understudy Bailey Zappe left them with two seemingly) very capable options at the position. So, no matter which direction the team went, they were in good shape.
Jones did return Monday night. It was a poor performance. completing just three of six passes (13 yards, one interception). He was booed off the field by Patriots' fans in favor of their latest flavor of the month, the rookie Zappe, and he responded.
In the first two possessions with Zappe, it was a pair of Pats' touchdowns. More than just the game was saved. Zappe was apparently poised to lead them to another postseason. The question during the second quarter wasn't about which player started, rather how much the Patriots could get by trading away Jones.
The second half happened to Zappe, striking midnight in Massachusetts. Cinderella's carriage to turn back into a pumpkin. Zappe was 5-of-6 (109 yards, one touchdown) in the first two quarters. The second half saw him complete just 9-of-16 passes (76 yards, two interceptions).
Zappe was better than Jones statistically, but he was bad, too. Now, the next starter in Foxboro is not known. In typical Bill Belichick fashion, asked if Jones would be his starter if Jones is healthy, Belichick said, "That's a hypothetical question. Let's see where that is and what that is."
Belichick being Belichick, but it now appears Jones gets the start when New England visits the New York Jets Sunday afternoon at the Meadowlands.
With a dozen consecutive wins over their AFC East rivals-including a 54-13 rout last December-New England is a 2½-point favorite this time around, according to NFL odds.
Colts Bench Matt Ryan
The Indianapolis Colts have now tabbed a quarterback who's never played in an NFL game.
Out is Matt Ryan, in is Sam Ehlinger, and according to coach Frank Reich, "The move means Sam is the starter the rest of the season."
Ryan is hurt, and Ehlinger would have started in his place against the Washington Commanders this Sunday anyway because of the former Falcons' Grade 2 separated shoulder. However, Reich made it clear that when Ryan is healthy, he will be holding the clipboard. It was just two games ago (against Jscksonville) when Ryan threw the ball 58 times and was fantastic. However, losing at Tennessee last Sunday, Indy didn't permit an offensive touchdown, only to see Ryan throw a pair of interceptions, including a second-quarter pick-six.
Ryan is leading the NFL this season with nine interceptions, and the 24 sacks he's absorbed is more than any other quarterback.
Ehlinger was a sixth-round pick out of Texas last season. He's never thrown an NFL pass. So It's understandable the Colts want to see what they have, Naming him the starter gives him a chance to prepare as such. However, the commitment to him through the rest of the season was an unnecessary add-on to the announcement, and it's easy to see how this might come back to bite Reich. Then, there's the issue of money, and not playing Ryan saves the Colts a lot of it. The Colts seem to be where once good QB's get put out to pasture. 
Saints to Start Dalton
Jameis Winston began the season as the New Orleans Saints' starter at quarterback. Before he was injured, he had three very uninspiring games (four touchdowns, five interceptions). NOLA lost two of his starts, including one to the woe-are-they Carolina Panthers.
Andy Dalton has started the last four-even though Winston has been dressed the last two-and last week, Dalton did a very good Winston impersonation (four touchdowns, three interceptions).
The Saints are just 1-3 in Dalton's starts, and other than last week in Arizona, the offense with him has not enthralled. Against Seattle, just 187 passing yards. Against the Bengals, just 162.
Coach Dennis Allen has mastered coach speak, answering the question as to which of his quarterbacks start Sunday against the Raiders inside the Superdome with, "I think that's a discussion that we have with the offensive staff. We'll see where we are. I do think that's a discussion we have to have. Hopefully, after we get a chance to talk about it, discuss it, we'll have a good answer for what we're going to do."  Long story short here, it's still Dalton.
If you're a longshot player at this point in the season, New Orleans is +850 to win the NFC South, as per NFL division odds.