College Football Championship GA vs TCU Preview & Pick
January 4, 2023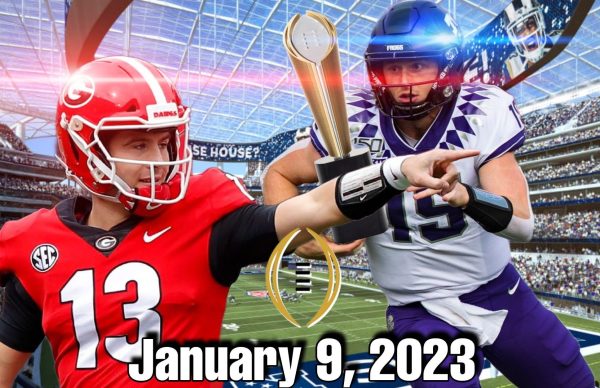 The big game has been set in stone for four days now. We wanted to wait a little while before previewing this one in order to see which way the line shifted and how the betting public approached it.
As you probably already know, TCU managed to pull off a massive upset against undefeated Michigan. Georgia pulled off a one point win against Ohio State. These two events seemingly did not affect the point spread of the championship game because the Bulldogs were issued a line of 13 points over the Horned Frogs. The line has since crept down to -12.5 at many sportsbooks.
The betting public has been betting TCU to the tune of 80% of the money, yet the line is coming down. It looks to be another case of reverse line movement which we mentioned in the Ohio State preview last week.
TCU liability keeps growing. Going to need Georgia ATS. ML & Under huge Monday night.

$$$:

72% TCU +12.5
53% TCU +355
89% Over 63

Odds> https://t.co/AwVOtKjzgb

— Dave Mason (@DaveMasonBOL) January 5, 2023
Inside the Numbers
| | SU | ATS | Offense | Defense | Diff. |
| --- | --- | --- | --- | --- | --- |
| TCU | 13-1 | 10-3-1 | 41 pts | 26 pts | 15 pts |
| GA | 14-0 | 7-7 | 39 pts | 14 pts | 25 pts |
TCU scores a little bit more than Georgia does but in what most experts consider to be an inferior conference to the SEC. The Bulldogs defense is also vastly superior in the amount of points they allow creating a much larger differential.
Previous Matchup
In this case the previous matchup has little to no bearing on this game. It was a little over 6 years ago and none of the players are the same. But just to make sure it is covered in our article we are brining it up. Georgia won 31-23 at TCU as RB Nick Chubb ran for 142 yards.
Keys to the Winning the Game
For Georgia
The secret to beating TCU is to pile up rushing yards. In their only loss of the season (to KSU) they allowed 205 rushing yards. Against Baylor, a team they only beat by one point, they allowed 232 yards rushing.
The good news for Georgia is that they average over 200 yards per game running the ball. The bad news is that we think head coach Kirby Smart is going to force the pass as he said after his last second win against Ohio State, Our QB "must play better". If he is truly 'smart' he will go out there on Monday and challenge his team to rack up 300 yards on the ground and the win wil be automatic if they do.
For TCU
Like we mentioned above, the keys for Georgia is to run amuck on the ground. Therefore, the key to TCU having a chance to win this game is that they must stop the run without allowing the hug passing plays. If they can keep the Bulldogs under 200 yards rushing and prevent the long bomb, they will have a chance.
For TCU to beat a superior team like Georgia they will also need to win the turnover battle. They will need approximately two more turnovers than Ga. in order for a shot at the straight up win. Forcing fumbles and picking off of QB Stetson Bennett will be the keys to getting this W.
How it Will Play Out and Our Pick
This matchup is very exciting for football purists. We get to see the rough and tumble defending champ Bulldogs take on the Big 12 opponent built for speed and agility. If Georgia gets out early they can cause panic on the TCU sideline and put their foot on the neck of the Horned Frogs. We think this exact scenario is what will most likely occur.
This game gets away from TCU and they suffer their second loss of the season, losing to a superior Georgia team by several TD's or more. Georgia gets the win and covers the 12.5 point spread. If you like what we are saying and want to throw down real world money on this wager, feel free to check out the sportsbooks current bonus list.
Useful Links:
Why Georgia Will Win College Football Championship
Why TCU Will Win College Football Championship
Sources:
https://www.wruf.com/headlines/2022/01/11/georgia-bulldogs-crowned-2021-2022-national-champions/
https://www.si.com/college/tcu/football/predicting-every-game-2022-tcu-football
https://www.playohio.com/odds/ncaaf/championship/