49ers VS. Cowboys: Game Preview & Prediction
January 19, 2023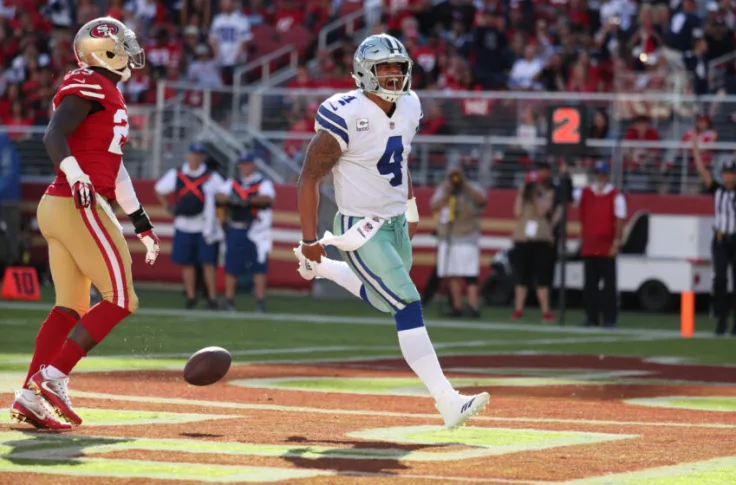 After having a bad showing in Week 18 against the Washington Commanders, the Dallas Cowboys bounced back in a big way to defeat Tom Brady and the Tampa Bay Buccaneers by a score of 31-14. Although Dak Prescott played well, the final score does not accurately represent how much of a blowout this game truly was for the whole of the competition. 
As Dallas prepared to play that game, all eyes were on them to see how they would react to the criticism that had been levelled at them heading into the playoffs. With a strong performance, Dallas was able to put those criticisms to rest for the time being. Their reward, though, is a matchup against the illustrious defense of the 49ers and a squad that has won 11 games in a row at this point. 
The last time these two teams competed against one another, the Cowboys side will be looking for a better outcome from that game, as Dallas was eliminated from the playoffs the year before after suffering a heartbreaking loss in the Wild Card round, 23-17, when they were unable to get up and clock the ball in the last moments of the game, putting an end to their season. 
Tactical Analysis
The Cowboys' best chance of victory this time around lies in their ability to maintain their sharpness on offence and compete with the playmakers that the 49ers have on the other side of the ball. This 49ers defense has been historically outstanding this season, but if Dallas can play as well as they did in the Wild Card round, we might witness a tightly fought game for the whole of this matchup. 
Concerning the 49ers, it is astounding how they continue to dominate their competition by running them over like a steamroller. Since the 27th of November, they have not played a single game in which they scored less than 33 points. 
The play of Brock Purdy has made him the focal point of all conversations pertaining to the 49ers, as it should be given his performance, but the playmakers on offence need to be acknowledged for what they've accomplished. When it comes to attempting to slow down Christian McCaffrey, George Kittle, Brandon Aiyuk, and Deebo Samuel, Dallas is going to have their hands full. 
If San Francisco keeps winning like they have been, the acquisition of McCaffrey throughout the season may be remembered as one of the finest transactions in the history of sports. It will be tough for the Cowboys to prevent him from having an impact on the result of the game since he has relieved the quarterbacks who have been in the lineup under an enormous amount of pressure. 
49ers VS. Cowboys Prediction
The Niners won't put the game in Purdy's hands. They will be creative and get the ball into their best players' hands. But there's also a good chance that the 49ers will earn some turnovers against a turnover-prone quarterback like Dak Prescott. Prescott was in his zone against the Buccaneers. But the 49ers are much more elite in coverage. The tackling is also much better, and the pass rush can make things happen. Ultimately, the 49ers are the best defense in the NFL. So, therefore, its looking likely that the 49ers will have their fun come game day. 'Niners for the straight up win. Bet the game here
Also See:
Chiefs VS. Jaguars: Game Preview and Free Pick
Eagles VS. Giants: Game Preview & Free Pick
Bills VS. Bengals: Game Preview & Prediction