Will Duke & UNC Basketball Ever Dominate Again?
January 25, 2023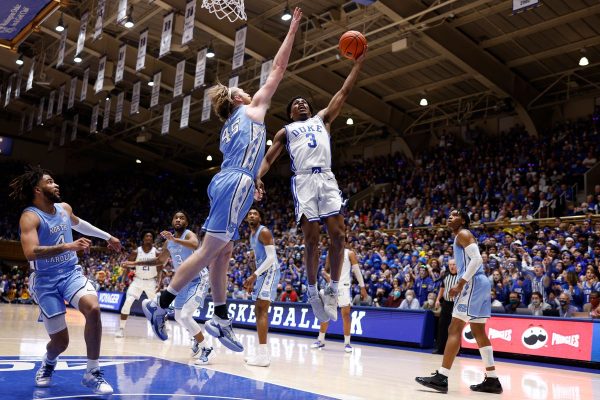 When North Carolina beat Duke 81-77 in the 2022 Final Four, it marked the end of an era. It was the final game for Blue Devils head coach Mike Krzyzewski, who had been in Durham since 1980. Coach K led Duke to 13 ACC regular season championships, 15 ACC tournament titles, 13 Finals Fours, and five national championships.
Interestingly, Tar Heels head coach Hubert Davis was in his first year after taking over for the legendary Roy Williams. Davis played at UNC from 1988-1992 for another legend – Dean Smith. After Davis' inaugural season's success, the Tar Heels were the preseason No. 1 team in the country. That dried up quickly. 
As the 2022-23 college basketball season moves into February, neither Duke nor North Carolina is ranked in the AP Top 25. Both teams have found the road quite tough without their legendary head coaches. That begs the question will these two blueblood programs ever dominate again?
History Lesson
To help answer the question, we need to take a look at the past. As mentioned, Duke has won five national championships (all under Krzyzewski). North Carolina has won six, which is third all-time behind UCLA and Kentucky. 
In the history of college basketball, only two teams – Kansas and Kentucky – have more wins than either North Carolina or Duke. The Tar Heels ranked third in all-time wins heading into this season with 2,323. Duke is fourth with 2,246. North Carolina has won 73.5 percent of its games and has just 10 losing seasons since beginning its program in 1910. Duke has won 71.1 percent of its games and owns an NCAA-best 75.5 percent tournament winning percentage.
Over the years, 11 Duke players have been named National Player of the Year. The Blue Devils have won a record 21 ACC championships. Prior to joining the ACC in 1953, Duke won five Southern Conference titles. North Carolina has won 32 ACC regular season titles and has appeared in an NCAA record 21 Final Fours. The Tar Heels have reached at least one final four in each of the last nine decades.
Current Season
If their programs were named something other than Duke or North Carolina, the current 2022-23 season would be viewed in positive eyes. The Blue Devils and new head coach Jon Scheyer are 14-6 with losses to top-5 Kansas and Purdue. Duke is just 5-4 in the ACC, but they are young and just got one of the better players – Jeremy Roach – back in the lineup.
North Carolina is 15-6, but the Tar Heels are 7-3 in the conference. UNC lost consecutive games early in the season to now No. 2 Alabama and then No. 10 Indiana. The Tar Heels have conference losses to No. 13 Virginia as well as Wake Forest and Pitt, both of which are 6-3 in the ACC. 
What's interesting is that Baylor, which won the 2021 national championship, is 14-5. The Bears are ranked No. 17 in the country. They did beat Kansas but are just two points – beat Oklahoma 62-60 – from having the same number of losses as Duke and UNC. 
Marquette and Providence, both of the Big East, each have five losses. The No. 16 Golden Eagles have a win over Baylor and the Friars but, like the Bears, are two points – Villanova 68-66 – from a sixth loss. Providence, ranked 23rd, is in the same boat. The Friars are 15-5 with a nice win over No. 4 UConn, but they only beat St. John's by three (83-80) and nearly lost their season opener to that powerhouse known as Rider (66-65). 
The point is that neither Marquette nor Providence is named Duke or North Carolina. Therefore, with similar shaky numbers, the Golden Eagles and Friars find themselves in the AP Top 25. The Blue Devils and Tar Heels are left on the outside.
They'll Be Back
It has happened before, you know. When Dean Smith took over at UNC before the 1961-62 season, it took him five years to get the Tar Heels into the NCAA tournament. Smith went to three straight Final Fours in 1966, '67, and '68. It happened before Smith, too. Frank McGuire had two mediocre (11-10, 10-11) seasons before his 1955-56 team won the first of five ACC titles. His 1956-57 team won the national championship. 
Krzyzewski suffered through three brutal seasons – two with losing records – before his 1983-84 team made the NCAA tournament. From that season all the way to 2020, the Blue Devils were in every NCAA tournament but one (1994-95). Before Coach K, it took Bill Foster three .500-ish seasons to get Duke into March Madness. His 1978 team lost to Kentucky in the national final.
There have been some anomalies along the way, but you get to No. 3 and No. 4 on the all-time wins list by dominating your sport for extended periods of time. Both the Tar Heels and the Blue Devils continue to draw four- and five-star talent every year. With long traditions of success in both programs, there's no doubt the answer to the question presented in the title is a resounding "yes".
Upcoming Games
These two are schedule to face off twice before the end of the regular season. On Saturday February 4th and March 4th, 2023. Its hard to see that far into the future as far as point spreads go but we can see the home team being favored by about 3-4 points in each game. We can also see the home team win and cover in both instances.
Useful Links