NBA Weekend Recap As Kings Beat Clippers In A High-Scoring Affair
February 26, 2023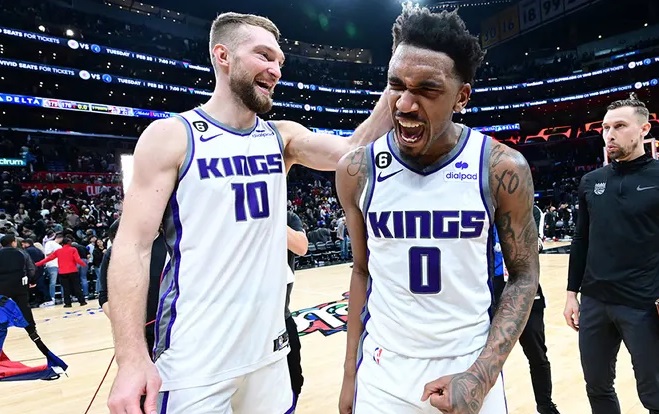 In a nail-biting battle that tied for the second-highest scoring contest in the annals of NBA history, the Sacramento Kings prevailed against the Los Angeles Clippers with a final score of 176-175. In the Kings' victory that required two overtime periods, Malik Monk led all scorers with 45 points, while De'Aaron Fox was a significant contributor with 42 points. 
Both teams' final point totals set a new franchise record for points scored in the NBA for their respective franchises. In 1983, the Detroit Pistons and the Denver Nuggets played in the highest scoring game in the history of the National Basketball Association (NBA). When there was three minutes and 18 seconds remaining in the game, the Clippers held a lead of 147-136, but the Kings scored 10 points without receiving a response to cut into that margin. 
Monk hit a three-pointer with 2.1 seconds remaining to tie the game at 153 each and send it into overtime. After the first overtime session, the score was tied at 164-164, thus there had to be a second overtime period. With 36.5 seconds left on the clock, Fox gave the Kings a lead that they would not relinquish. Nevertheless, both Kawhi Leonard and Nicolas Batum missed crucial shots that would have given the Clippers the lead. 
Russell Westbrook contributed 17 points and 14 assists in his first game for the Clippers, while Kawhi Leonard led his team in scoring with 44 points. Westbrook also led the Clippers in assists. According to the head coach of the Clippers, Tyronn Lue, "I felt it was a tremendous game, particularly for the fans." "A crazy game with a lot of changes in the momentum."  Sacramento's odds for winning the NBA championship are currently set at +10000 at BetUS.com – The Clippers have much shorter odds of +1100
After defeating the Miami Heat by a score of 128-99, the Milwaukee Bucks extended their winning streak to a franchise-record 13 games. Giannis Antetokounmpo, a top player for the Bucks, suffered an injury to his right knee at the conclusion of the first quarter. Despite this, his team was able to pull off a victory, with Jrue Holiday leading the scoring with 24 points. 
According to the head coach of the Bucks Mike Budenholzer, "I'm very confident that either on a drive or a screen or anything like that, that he [Antetokounmpo] bumped knees with someone and simply wasn't able to return." The Golden State Warriors defeated the Houston Rockets by a score of 116-101, led by the outstanding play of Klay Thompson. In a game in which the Warriors were without Stephen Curry, Draymond Green, and Andrew Wiggins, Klay Thompson led the team in scoring with 42 points while making 12 three-point shots.
Odds for these teams at BetUS
Bucks +500
Heat +5000
Warriors +1400
Rockets +10000