Downloadable NCAA Tournament Bracket
March 12, 2023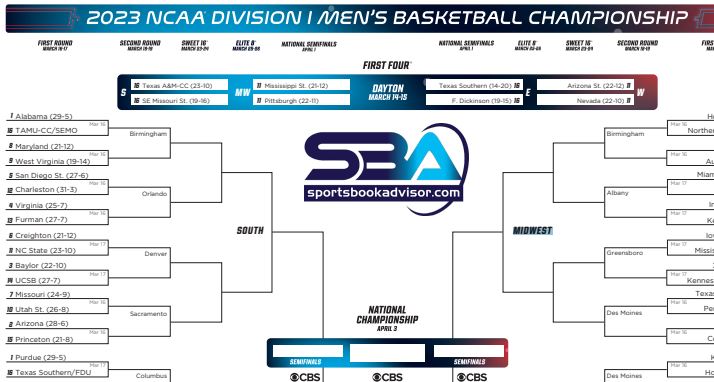 The brackets have been set and seeds assigned. You can guarantee your spot now in the real money March Madness contest which is paying over $250K in prizes.
If you would like to have your own bracket to view from your computer, phone or print up and make into your own contest please see below:
Here is the 2023 NCAA basketball bracket.
Related:
2023 NCAA Division I Men's Basketball Championship
Seed List
1: Alabama (29 – 5)
2 Houston (31 – 3)
3: Kansas (27 – 7)
4: Purdue (29 – 5)
5: UCLA (29 – 5)
6: Texas (26 – 8)
7: Arizona (28 – 6)
8: Marquette (28 – 6)
9: Baylor (22 – 10)
10: Gonzaga (28 – 5)
11: Kansas St. (23 – 9)
12: Xavier (25 – 9)
13: UConn (25 – 8)
14: Tennessee (23 – 10)
15: Indiana (22 – 11)
16: Virginia (25 – 7)
17: San Diego St. (27 – 6)
18: Duke (26 – 8)
19: Saint Mary's (CA) (26 – 7)
20: Miami (FL) (25 – 7)
21: Iowa St. (19 – 13)
22: Creighton (21 – 12)
23: Kentucky (21 – 11)
24: TCU (21 – 12)
25: Texas A&M (25 – 9)
26: Michigan St. (19 – 12)
27: Missouri (24 – 9)
28: Northwestern (21 – 11)
29: Memphis (26 – 8)
30: Arkansas (20 – 13)
31: Maryland (21 – 12)
32: Iowa (19 – 13)
33: Fla. Atlantic (31 – 3)
34: West Virginia (19 – 14)
35: Auburn (20 – 12)
36: Illinois (20 – 12)
37: Boise St. (24 – 9)
38: Penn St. (22 – 13)
39: Southern California (22 – 10)
40: Utah St. (26 – 8)
41:NC State (23 – 10)
42: Providence (21 – 11)
43: Mississippi St. (21 – 12)
44: Pittsburgh (22 – 11)
45: Arizona St. (22 – 12)
46: Nevada (22 – 10)
47: Col. of Charleston (31 – 3)
48: Oral Roberts (30 – 4)
49: Drake (27 – 7)
50: VCU (27 – 7)
51: Kent St. (28 – 6)
52: Iona (27 – 7)
53: Furman (27 – 7)
54: Louisiana (26 – 7)
55: Kennesaw St. (26 – 8)
56: UC Santa Barbara (27 – 7)
57: Grand Canyon (24 – 11)
58: Montana St. (25 – 9)
59: Vermont (23 – 10)
60: Colgate (26 – 8)
61: Princeton (21 – 8)
62: UNC Asheville (27 – 7)
63: Northern Ky. (22 – 12)
64: Howard (22 – 12)
65: A&M-Corpus Christi (23 – 10)
66: Texas Southern (14 – 20)
67: Southeast Mo. St. (19 – 16)
68: FDU (19 – 15)