Never Too Early Odds to Win 2024 March Madness
April 4, 2023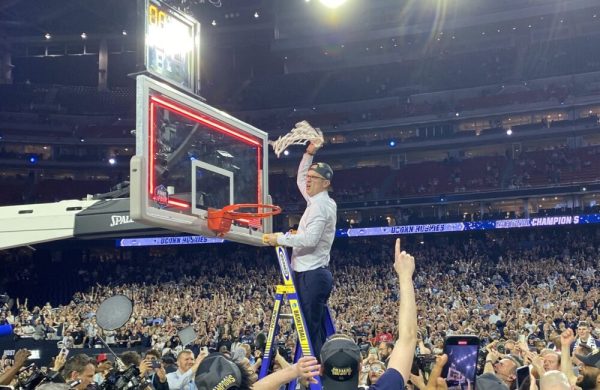 The dust has barely settled on one of the most intriguing NCAA tournaments in history. UConn, a No. 4 seed, won its fifth national title with a 76-59 win over No. 5 seed San Diego State, which was making its first-ever appearance in a Final Four. 
For the first time in NCAA tournament history, all four No. 1 seeds were eliminated before the Elite Eight. The Final Four featured three – SDSU, Florida Atlantic, and Miami – first-time participants. Another No. 1 seed – Purdue – was beaten in Round 1 and the tournament was littered with upsets.
Now that it's over, it's time to look ahead. A lot will happen between now and the start of the new season in November. But, it's never too early to look at the odds to win the 2024 March Madness title.
No Coach K, No Problem
As college basketball heads to its offseason, the Duke Blue Devils open as the favorite to win next year's national championship. In its first season without the legendary Mike Krzyzewski on the bench, Duke went 27-9 and won the ACC tournament title. The Blue Devils won their first-round tournament game but lost to Tennessee in the second round.
New head coach Jon Scheyer will return a freshmen-laden team. Kyle Filipkowksi and Tyrese Proctor will be back and Mark Mitchell might return for his sophomore campaign. Jeremy Roach could return for his senior season, but the big reason Duke is given +1000 odds to win it all next year is the recruiting class.
Scheyer won't have just one or two five-star recruits next season. He'll have five! Led by MacKenzie Mgbako, Sean Stewart, and Jared McCain, Duke's recruiting class sports an entire starting lineup of five-star recruits. The future is bright in Durham.
Coach Cal Returns
There was a point in the 2022-23 college basketball season when Kentucky looked like it just might pack it in and finish with a losing season. Give head coach John Calipari and his team credit. They rebounded to finish 22-12 and win a game in the NCAA tournament.
The Wildcats, listed at +1200 for next year's title, will lose a number of seniors including Oscar Tshiebwe. That won't be a problem for Calipari as he has inked the Nos. 3, 4, 5, and 7 recruits in the country. Dajuan Wagner Jr., son of Dajuan Sr. and grandson of Milt, leads the Wildcats recruiting class. 
Top Contenders
It only makes sense that any talk of a national championship includes the Kansas Jayhawks, who have played in the last 33 straight NCAA tournaments. Kansas is given +1400 odds to win a fifth national title. 
It also makes sense that the reigning national champion be included in the list of top contenders. UConn was listed at +2100 last December. By January, the Huskies were at +1300. Head coach Dan Hurley and company will enter the 2023-24 season given +1400 odds to go back-to-back. Hurley has one five-star recruit – Stephon Castle – and four four-stars signed for next year.
The other top contender and also given +1400 odds to win it all next year is Marquette. The Eagles, coached by Shaka Smart, won both the Big East regular season and conference tournament titles. They finished 28-6 after an unexpected second-round loss to Michigan State in this year's tournament. 
Longshots
The rest of this year's Final Four field return as longshots next season. Miami is given the best odds at +2800 to win a title next year. This year's runner-up San Diego State is listed at +5000 and FAU is right behind at +6000. The Owls will move to the American Athletic Conference next season. 
The AAC is home to Houston, which is listed as +2200 at sportsbooks. The highest-ranked team from a non-Power conference is Gonzaga, a perennial favorite to win March Madness. Head coach Mark Few's Bulldogs are listed at +2500 heading into next year. Interestingly, Rick Pitino will take over at St. John's where the Red Storm is given +10000 odds to win a first-ever championship.