Will Luca Doncic Leave the Dallas Mavericks?
April 8, 2023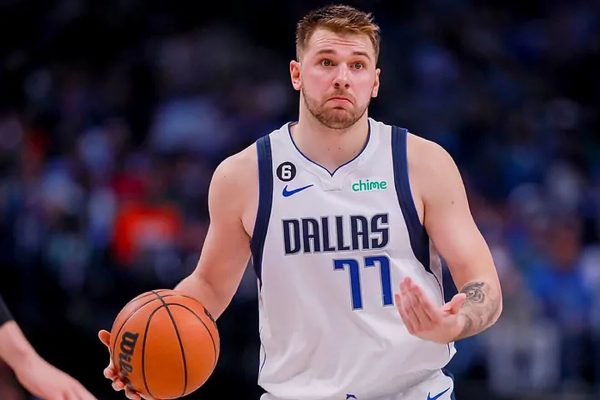 After being eliminated from postseason contention two months after dealing for Kyrie Irving in a last-ditch effort to pair another superstar with Luka Doncic, the Dallas Mavericks find themselves in a very hazardous position and need to make the correct franchise-changing decisions this summer. They risk losing Doncic if they don't.
It's possible that Doncic was disappointed by the Mavericks' decision to end the season while they were still mathematically alive for the play-in round by resting nearly the whole core against Chicago on Friday night.
Two years from now, when Doncic is wearing a new team's uniform, these sorts of stories will be told. There may not be much more time for the Mavericks to make mistakes if they don't want that to occur. The franchise has stated that re-signing Irving to a contract extension is their top priority. Being a free agent, Christian Wood's future is likewise uncertain.
From ESPN's Tim MacMahon:
"There's a strong sense of urgency within the organization to expedite the process before Doncic loses faith in the Mavs' ability to build a contender around him. He's wrapping up the first season of a five-year, $215 million supermax contract with a player option for the final season.
Team sources have acknowledged to ESPN that fear exists that Doncic, who publicly and privately expressed extreme frustration this season, could consider requesting a trade as soon as the summer of 2024 if Dallas doesn't make significant progress by then."
To suggest the Irving investment is a gamble is an understatement. Several clubs would prefer not to commit to Irving for the long term under normal conditions. Nevertheless, the Mavericks don't have the resources or, more likely, the chance to sign a free agent who can immediately replace Irving's skills.
Jalen Brunson has already been allowed to escape. They were a superior club before they traded for Irving, but now that they have, Doncic may go if he decides to test the free agency waters.
That's why on Friday, Dallas decided to call it quits for the year. The Mavericks owe the Knicks a top-10 protected first-round selection in 2023 as the last element of the Kristaps Porzingis transaction. Dallas's chances of remaining in the top 10 and maintaining the selection improve to exactly 10% if they lose that game, the best odds in the lottery. which the Mavericks may include in a trade deal this summer to help complete the championship-caliber supporting group for Doncic and Irving. They need to strengthen defenses immediately.
Doncic, who has recently completed the first season of a five-year, $215 million supermax contract, is the subject of these efforts. Don't assume that means Doncic has to stay in Dallas against his will. Only one year into a four-year contract, Kevin Durant was dealt. If a famous person wants to leave, he can do so. The Mavericks have to act quickly if they want to keep Doncic from leaving for another team.
See Also: