Why is Bob Knight Considered a College Basketball Legend?
May 9, 2023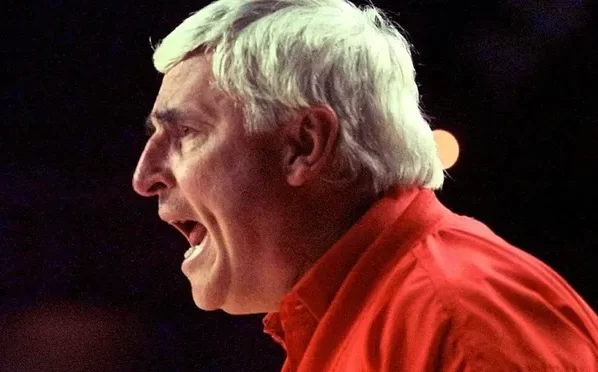 In Massillon, Ohio on October 25, 1940, one of the great basketball coaches, Bob Knight. He was also named "The General" due to his coaching style, and popularized the "motion offense". Motion offense encourages constant movement of the players and they are not assigned some specific positions. It involved players cutting to the basket, screening, and pick-and-rolls. In 1958 his college career started as he played under Fred Taylor, Knight did not often play as the Buckeyes team was full of stars, he was a reserve forward for the team. Four years later he graduated and coached a high school team in Ohio for one year, and in 1963 he started to serve on active duty for the US Army. He also became the assistant coach of the Army Black Knights and two years later was named the head coach at just the age of twenty-four. In the army, he became known for his hot temperament as when he lost the 1966 NIT (National Invitation Tournament) he completely lost control of himself and kicked down doors and lockers that he later apologized for.
1971 was when Indiana Hoosiers hired him as the head coach and he won a lot with them, winning three NCAA championships in 1976, 1981, and 1987 with a winning percentage of .735 he led Hoosiers to twenty or more wins in twenty seasons in the twenty-nine years that he coached. Knight was also eleven times Big Ten regular season champion with Indiana and the 1979 NIT. The Hoosiers have five NCAA championships in total, the first two were won under Brank McCracken and the last three were won under Bob Knight. 
Indiana Hoosiers are known to have one of the best basketball programs and their 1976 team under Knight is still the last undefeated NCAA basketball champion. In total Hoosiers won 662 and lost only 239 games under the General and 42 wins in 63 games in NCAA tournament appearances. On March 14, 2000, Neil Red confessed that Knight choked him in 1977 during practice, but Bob Knight denied it, less than a month later a tape was aired where Knight had hands on Neil's neck. Many more incidents happened and in September of the same year, the university president Myles Brand removed him from the head coach position.
The Texas Tech Red Raiders hired him a year later, where he helped them to reach three NCAA and one NIT appearance. When he retired in February of 2008, his son took over the position, Pat Knight.   
Bob also coached the US basketball team and led them to the gold medal in 1984 in the Olympic Games, the team had one of the all-time greats Michael Jordan. Knight was inducted into the Basketball hall of Fame and College basketball hall of Fame in 1991 and 2006 respectively. There were many great leadership skills in Bob Knight and through these skills, he had respect for the whole roster that he possessed, he trained his assistant coaches as well and they went on to be amazing coaches as well.
See Bobby Knight's Coaching Career Stats