News Cycle in NFL Just Continues
May 24, 2023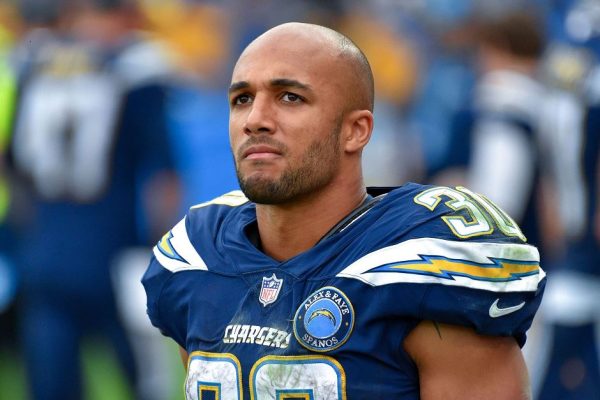 The 2023 NFL draft is complete, and the regular-season schedule is available. We now have reached the "quiet" period in terms of major player news, but still some big names aren't signed.
Despite the major roster decisions having already been made, that doesn't mean all news slows down. Here are some of the biggest stories around the league over the last days. 
"Bolted Down" in LA
There was a time when it looked as if Austin Ekeler would be leaving the Los Angeles Chargers. That's no longer the case. Sources have indicated Ekeler will remain in LA, and with many incentives to stay. 
Reportedly, he's had over $2 million in incentives added to his current pact with the team, that after leading the Bolts with 18 touchdowns during the regular season. He is certainly a major cog in the Justin Herbert-led offense. 
LA was a wild-card team a season ago, eventually eliminated by the Jacksonville Jaguars in an excruciating manner. Ekeler is entering the final year of a contract extension and wasn't happy. 
Now, he's presumably happy.

Several teams reached out to the Chargers in an effort to pry away Ekeler, but the Chargers were insistent on keeping him around at least this season.
LA is sitting at 28-1 (+2800) to win the title, according to Super Bowl LVIII odds.
He's Now Raider Brady
Tom Brady is now officially (and finally) retired, but isn't staying away at all. Las Vegas Raiders' owner Mark Davis announced Brady will now be in the ownership group with the team. 
The minority stake has to be approved by the other owners in the league. If/when that's a done deal, Brady will become just the third former NFL player to become a part owner of a team. 
Bardy is now getting involved with his second franchise. He is already a part of Davis' ownership group with the WNBA's Las Vegas Aces. The new development is not expected to deter Brady's transition into the broadcast booth this season. 
Thursday's Flex-ible Games
The 2023 NFL schedule might be out, but it is subject to change. Approved has been given to allow games flexed to Thursday Night Football, thus bumping that original game to Sunday. 
Teams must be notified within four weeks of this change, and it should give fans sufficient time to alter/make any plans. It's only applicable Weeks 13 through 18, as the league is hoping to have the best games in prime time to increase the eyeballs.   
The final vote was 24-8 in favor of flexing TNF games, the minimum amount of votes that were needed. There's a maximum of two TNF games per team per season.  
An Emergency Remedy
It's the playoffs which always seem to impact subsequent changes to the rules. That was the case once again. When the San Francisco 49ers were left without a healthy quarterback during their playoff loss to the Philadelphia Eagles, the league knew a rule change was needed. 
Thus, a new edict that would allow teams to use an emergency third quarterback if the first two were injured and couldn't go. This doesn't count against the overall number of active players on the roster, though it should allow teams to prepare if there's a worst-case scenario. 
This was formerly in place, but was hanged during the latest negotiations. An embarrassing occurrence to use a non-quarterback in crucial games, proving disastrous to the Niners.
San Francisco is currently +375 to prove best in the NFC, as per NFL conference odds.