Betting the NFL Offensive ROTY
May 26, 2023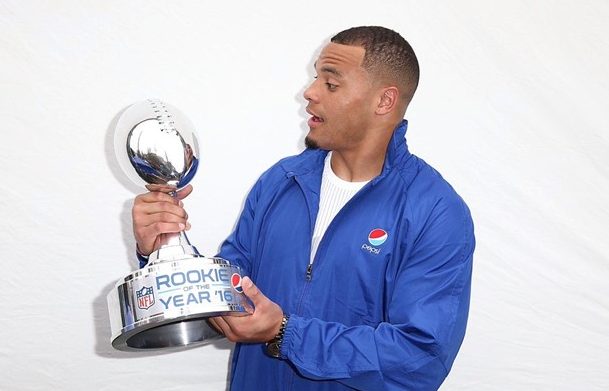 You will be better off betting the NFL Offensive ROTY if you have a plan. If you're just betting on a whim, go light your money on fire. Better yet, buy a nice bottle of bourbon and forget about betting on these types of awards
If you're really interested in maximizing your chances to win this futures bet, pay attention. We'll show you how to get the most out of your bets in this market. 
Start Here
When betting on the NFL Offensive ROTY, make sure the player is a wide receiver, a running back, or a quarterback. Tight ends and offensive linemen don't win this award. In fact, neither position has ever won a ROTY. 
Rookie quarterbacks, running backs, and wide receivers all need to play too. A popular rookie that doesn't play isn't going to win. Most of the winners of this honor play 15 or more games in their first season. Playing that many games allows a rookie to accumulate the kinds of numbers needed to win an award like this. 
Defining ROTY
The Associated Press NFL Rookie of the Year Award is given annually to the National Football League's best offensive first-year player. So, who's the best?
According to the 50 Associated Press journalists who cast the votes, the best is usually a guy with strong statistics. In a given year, the voters usually identify two to five players that receive votes. The votes are cast after the final regular season game. Each year, the winner is pretty clear-cut. 
By the Numbers
Speaking of those numbers, stats matter. Real passing yards are more important than measures such as air yards or yards per attempt. In order to win ROTY, wide receivers and running backs typically require 1,300 yards or more. 
As mentioned, a rookie is going to have to play in order to generate these kinds of numbers. Since 2010, nine ROTY winners have played in at least 15 games and 28 of the 39 players that received votes since 2010 played in every game.
Former Winners
The ROTY was a running back-heavy award until the early 2000s. Now that rookie quarterbacks frequently start early, QBs have won nine of the previous 20 awards. The other 11 were won by wide receivers and running backs. The most recent ROTY winners, Ja'Marr Chase and Garrett Wilson, were both receivers. Receivers are starting earlier because more of them are getting selected early in the draft.
Timing
When placing ROTY wagers, timing is everything. As a rookie quarterback with the Chargers, Justin Herbert probably didn't generate much interest at 30-1. He was not the Week 1 starter for the Chargers. However, Herbert filled in for injured starter Tyrod Taylor in Week 2 and had a standout season to win the award.
Odell Beckham Jr. missed the season's opening four games in 2014. His value decreased as a result, although he ultimately won the ROTY. In order to earn better odds, bettors may have to wager on a player who isn't a starter or isn't on the field much in the early going.
It's common to find quality ROTY candidates at +1000 or higher early in the NFL season. When a bettor decides to pull the trigger can be the difference between a nice win and hefty payday.
Team Counts
Since 2010, the ROTY winner has been on a team that  averaged 7.9 victories per season. Saquon Barkley played for a horrible Giants team that went 3-13 record. Dak Prescott was fortunate in playing for a Dallas team that went 13-3. 
Keep in mind that most ROTY teams are ones that haven't done well at least in the previous year. The worst teams always draft near the top as a result of their poor finish. Quarterbacks are so crucial that teams often pick them among the first ten picks. Those QBs often play for sub-par teams.
The Draft and More
Twelve of the previous 20 ROTY winners were among their draft's top 10 picks. Highly selected players frequently have a more immediate opportunity to participate. Naturally, that results in the big stats we already discussed.
The only position where non-first-round picks have won ROTY is running back. Offensive linemen have received a small number of votes, but they have never won. Since 2010, there have been six votes cast for offensive linemen.
When the vote is close, a quarterback's victories count. Dak Prescott earned the ROTY despite Ezekiel Elliott having the second-best rookie running back season of all-time in 2016. Prescott guided the Cowboys to a 13-3 record while throwing only four interceptions. That pushed Prescott past Elliott.
2023 Rookie of the Year Odds