NBA Finals Preview: Miami Heat vs. Denver Nuggets
May 31, 2023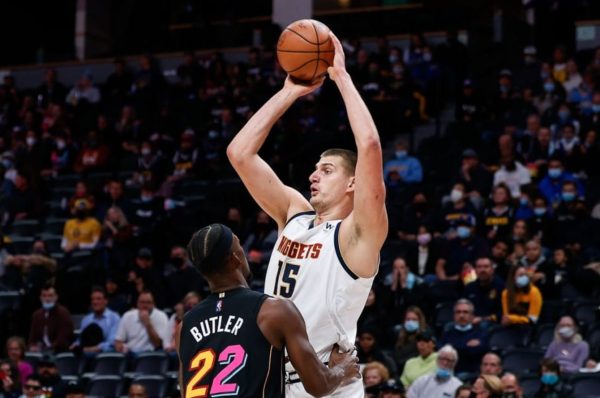 The NBA Finals will start Thursday night and it's apparent that this was not the matchup that most fans anticipated. The West's top seed, Denver, advanced to the finals for the first time in franchise history by sweeping the Los Angeles Lakers in the conference finals. 
Miami, which will make its second finals appearance in four seasons, needed to win two games in the play-in tournament just to get into the playoffs. They are the first No. 8 seed since the 1999 New York Knicks to advance to the NBA Finals. 
Can the Heat continue their magic and make NBA history by becoming the first No. 8 seed to win a title? Denver could also make history with the franchise's first-ever NBA championship. Either way, bettors need to find an edge. 
The Matchup: Denver Offense vs. Miami Defense
Jimmy Butler and the Heat turned up the offense a bit in the postseason. After finishing dead last in scoring during the regular season, the Heat have averaged 111.7 points per game in the playoffs. Butler has been outstanding, averaging 28.5 points a game on 48.3 percent shooting.As a team, the Heat are shooting 47.2 percent from the floor and 39 percent from three-point range. 
For Miami's defense, Denver's offense is an entirely different animal. When the Celtics were hitting threes, they had the potential to be unstoppable. Boston lacked any real scripted offense or flow. With Nikola Jokic, Denver's offense presents something completely different for Miami. 
The Nuggets Effective FG percentage (eFG%) was the second-best in the NBA during the regular season. In the postseason, they are shooting even better than Miami (49% overall). Jokic has been the key. He's averaging a triple-double per game – 29.9 points, 13.3 rebounds, and 10.3 assists. For good measure, Miami ranked 26th in opponent eFG%. That's not a confidence booster for the Heat.
To make it even more of a challenge, the Nuggets have been even better on offense during the postseason. They are averaging 119.7 points per game. Their true shooting percentage is over 59 percent and their offensive rebounding rate is up.
The Heat will matchup Bam Adebayo on Jokic, but historically that has been difficult for Miami. The Miami defense only gets worse when the Heat try to play more shooters like Duncan Robinson. 
The Heat Offense vs. The Nuggets Defense
Denver's defense has a number of weaknesses, but Miami lacks players who can effectively pressure the rim to exploit their biggest one. One way to attack Denver is to get to the rim, but other than Butler, Miami lacks the ability to do so. 
Limiting opponent three-pointers is one defensive strategy in which the Nuggets excel. Denver is top-3 in both in three-pointers allowed and three-point percentage allowed. In the postseason, they're giving up just 9.9 three-point attempts per game. Even limiting Miami's three-point production could spell the end for an offense that hasn't really advanced past just launching a barrage of threes.
The Heat are designed to force turnovers and rain three-pointers. Denver has been particularly effective at preventing both of those. 
Denver Is the Betting Favorite
It's no surprise that Denver is the betting favorite in this year's NBA Finals. 
Denver takes away what Miami does best. They have a two-time MVP who leads an offense that has been extremely effective as of late. 
Denver has outperformed Miami at home, going 8-0 straight up in the playoffs and 42-7 overall, while the Heat went 17-24 on the road and had a negative Net Rating during the regular season. And unlike the Celtics, who were fresh off a Game 7 entering the Eastern Conference finals, Miami, which is playing on the road and in altitude, is the team that is currently lacking in rest and health.
The Butler Did It
The only way Miami pulls the upset – Denver is a -410 favorite to win the series & Miami is +330 at BetUS – is if Butler is the best player on the floor. The problem with that is the sprained ankle he aggravated in Game 7 against Boston. 
Butler was absolutely on fire in his first eight playoff games – 33.5 points per game. Since, he's averaged 24.5 a game. In five of his last nine games, Butler has had a negative plus-minus rating. 
Butler has continued to be effective, making a difference in games through defense, rebounds, and passing. But, he hasn't played as well as he did earlier in this postseason when he was rested and healthy, and he will have a tough time matching Jokic's transcendent level of performance. 
No One-Man Show
While Jokic is phenomenal, he is far from the one-man show that is Butler and Miami. Jamal Murray is averaging 27.7 points and 6.1 assists per game in the playoffs. Michael Porter Jr., Aaron Gordon, Kentavious Caldwell-Pope, and Bruce Brown all average in double figures for Denver. 
The NBA's worst opponent for Bam Adebayo, who hasn't played like a star, is Jokic. Adebayo has struggled more against Jokic than any other player. Behind Adebayo, Miami lacks big man depth because Kevin Love and Cody Zeller are occasionally unplayable.
Gabe Vincent twisted a knee and Caleb Martin isn't 100 percent. Tyler Herro and Victor Oladipo remain out with injuries for Miami. Not having depth will be an issue, especially for a team coming off a seven-game series. 
Don't forget, Miami does not have adequate big man depth either. Adebayo on Jokic is a huge mismatch. Jokic against Cody Zeller or Kevin Love is even more of an advantage.
Betting the NBA Finals
As mentioned, the Nuggets are a -410 favorite to win the series. One bet definitely worth considering is the Nuggets in Game 1. History is with Denver. Since 1988, teams that are coming off a Game 7 are just 33-53 SU and 36-50 ATS in Game 1 of the next round. 
What's interesting is that Miami has won Game 1 in each of its playoff series this postseason. What's even more intriguing is that they became the first team in NBA history to win three straight Game 1s all on the road.
Over the past 20 NBA Finals, there have been only two 4-0 sweeps. Ironically, the loser in both of those was the Cleveland Cavaliers. 
Bettors can get Denver at +450 in the Exact Outcome market, betting on the Nuggets to sweep the Heat. Next on the board is Denver winning Games 1 and 2 and 4 and 5 at +600. 
Jokic, who is averaging a triple-double, is given -125 odds to continue that in the finals. Should he do so and the Nuggets win it all, it's likely Jokic wins the NBA Finals MVP. He's listed at -350 in that market. Butler is next on the board at +325 at SportsBetting.ag.
Picks
It's tough to bet against this Miami team but the fact of the matter is that they may be pretty worn down after all that basketball. Denver has been sitting at home and getting healthy. If Miami can steal game 1 on the road then we believe they can win the series. But, the Nuggets are a very well rounded team with a dominant force in the middle. We are taking the Nugs to win in 6 games. We are taking Jokic to win the Finals MVP.