The 2023 CFB Sleeper That Could Crack the CFP
June 17, 2023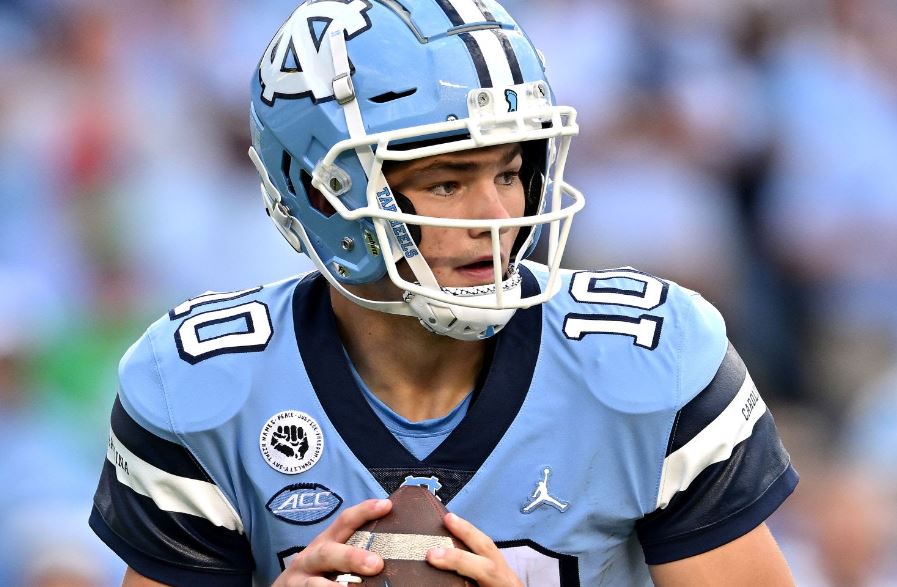 The 2023 college football season is still a few months away, but already bettors and fans are looking at the final College Football Playoff before expansion in 2024. The current four-team playoff expands to 12 teams after this season.
The CFP has been dominated by a handful of programs such as perennial SEC favorites Georgia and Alabama, Ohio State, and Clemson. Only a few outsiders have broken the CFP cheat code, TCU and Cincinnati being the most recent. 
Who will it be this year? 
Tar Heels Have the QB
When looking at potential teams to make the CFP, it all starts with an elite quarterback. North Carolina went 9-1 to start last season before losing its last four to finish 9-5. The Tar Heels have one of the best QBs in the country in 6-5 sophomore Drake Maye.
Maye threw for 4,321 yards and 38 touchdowns last year while also leading UNC in rushing with 698 yards. The problem for Maye and the Tar Heels is on defense. North Carolina finished 105th in scoring defense allowing 31 points per game. That won't cut it in the ACC or in the national championship picture.
The Pac-12?
Of the 36 entrants in the CFP since it began in 2014, only two – Oregon (2014) and Washington (2016) – teams from the Pac-12 have competed. The conference could be loaded this season with three teams having a shot at a conference title and a CFP berth.
USC returns a ton of talent, including Heisman Trophy-winning quarterback Caleb Williams. Head coach Lincoln Riley will be in his second year with another solid class of transfers from the portal. The Trojans are a top-5 pick on most betting boards at around +1500. It wouldn't be much of a surprise if they did, in fact, make it.
Crosstown rival UCLA and Washington are different stories. Washington (+4000) returns QB Michael Penix who threw for 4,641 yards and 31 TDs in 2022. The Huskies went 11-2 last season and both of their losses were by one score or less. 
UCLA (+10000) needs to replace starting quarterback Dorian Thompson-Robinson. They have two quality candidates in four-star transfer Collin Schlee and five-star freshman Dante Moore. Head coach Chip Kelly also brought in 13 transfers to improve upon the Bruins' nine wins last season.
The Big Surprise
While it could be any of the teams mentioned above, the real sleeper to watch out for is Florida State. The Seminoles went 10-3 last season and are primed to better that mark in 2023. 
The No. 1-rated quarterback in the country last season was not Alabama's Bryce Young. It was not Ohio State's CJ Stroud either. That honor fell to FSU starter Jordan Travis. The guy was simply electrifying and wound up with a QB rating of 91.7. 
Travis threw for 3,214 yards and 24 touchdowns and ran for over five yards per carry. He finished with 417 yards on the ground – one of four Seminoles with at least 400 yards rushing – and scored seven more touchdowns. 
What separates the Seminoles from the rest of the sleeper pack is its defense. Head coach Mike Norvell's unit finished 16th in the country allowing 19.7 points per game. The offense was top-20 in both scoring (36.1 ppg) and rushing (214.1 ypg). 
FSU gets to prove itself in the opening weekend of the season. The Seminoles face LSU. Norvell and company don't play North Carolina, but they'll have the opportunity to turn some heads with road games at Clemson and Pitt. The schedule could be just enough to propel Florida State back to the CFP. The 'Noles made the inaugural event in 2014, losing to Oregon in the semifinals.
Jordan Travis Highlight Reel