Flashback – The Cinderella Story of Kurt Warner
July 6, 2023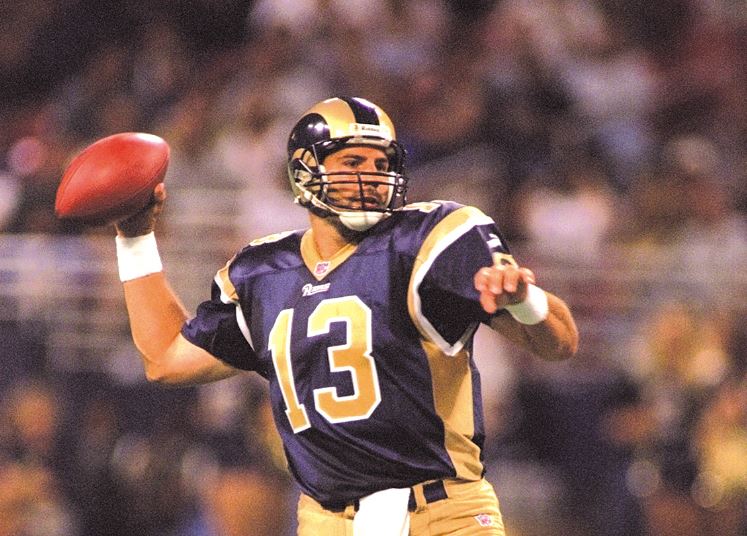 Kurt Warner is a former quarterback who played for the St. Louis Rams, New York Giants (only one season), and the Arizona Cardinals. He played for twelve seasons in the NFL and has a remarkable underdog story from undrafted to NFL champion. 
Undrafted
Warner played for Northern Iowa in his college career from 1990-1993, and when he made himself available for the 1994 draft, he was drafted by Green Bay Packers but was released before the season started. After not being selected for the NFL, he decided to play for Iowa Brainstormers in the Arena Football League (AFL). There Warner played for three seasons, and in the last two seasons, he was a standout performer and signed a futures contract with the Rams. So, it meant he had to spend one more season not playing in the NFL.
Destined for NFL
Warner belonged in the NFL, but he just had to play one more season outside the NFL, so he played for Amsterdam Admirals in the NFL Europe, where he was the leader in passing yards and touchdowns.
The first season in NFL
It was 1999, and Warner finally played in the NFL. He did not just have a good season; he had a spectacular season, and it showed his NFL debut was long overdue. Warner won the NFL MVP in his first season and helped his team qualify for the playoffs with a 13-3 record.
 His first NFL playoff appearance was against the Vikings, and he threw five touchdown passes as Rams won the game 49-37. The NFC championship game was against the Buccaneers, and with 4:44 left on the clock, the Rams were trailing 6-5. Then, Warner threw a touchdown pass to Ricky Proehl to lead 11-6, which would be the final scoreline.
Now it was time for the Super Bowl against the Tennessee Titans. Warner threw a seventy-three-yard touchdown to Isaac Bruce, which would be the winning touchdown in the Super Bowl. The final score was 23-16, and the NFL champions were the Rams. Kurt Warner was a Super Bowl champion; from not being drafted, he was the NFL MVP and the Super Bowl MVP. What a story.
Rest of his Career
He continued to put on incredible showing for the Rams until he was injured in 2002 and was subsequently let go (short-sighted and greedy by the Rams). He was picked up by the Giants and played one season there. He was considered a tutor for rookie draft pick Eli Manning. After the season, he became Cardinals' quarterback and had one the most significant years in 2008 but unfortunately did not win the NFL title. He played there for five more seasons and announced his retirement in 2010 to spend more time with his children and wife. 
Never Give up
Warner had a fantastic career, winning two MVP awards (1999 and 2001) and a Super Bowl. He can be a role model for upcoming football players and people of other professions. Warner was determined to succeed, which is what he did; he did not give up his football dream after being undrafted and had one of the most successful careers.
Hall of Fame
Warner was inducted into the NFL HoF in 2017. He gave a lengthy heartfelt speech at his induction.
You can watch the speech in its entirety here
Movie
They made a movie about Kurt Warner's life story. It's called American Underdog and it came out in 2021. It stars Zachary Levi and Anna Paquin. It is rated 4.6 out of 5 on Google reviews and 98% by the audience on rotten tomatoes.