Will the Miami Hurricanes Ever Return to Championship Form?
July 24, 2023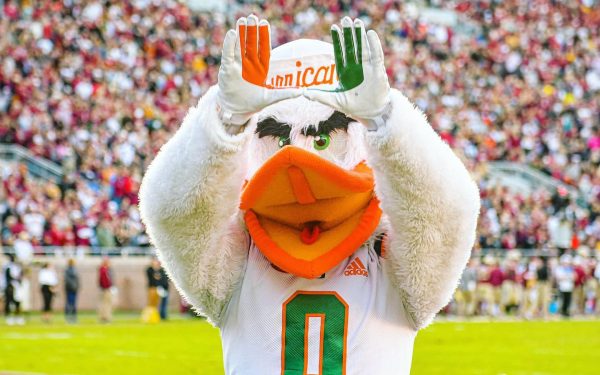 Be careful what you wish for. In 2001, Larry Coker inherited one of the greatest football programs of all time. His 2001 team may have been the greatest college football team to ever take a field. 
Coker's 2001 'Canes – Ed Reed, WR Andre Johnson, TE Jeremy Shockey were a few – went 12-0 and beat No. 4 Nebraska in the Rose Bowl to earn the national title. Miami was part of the national championship discussion for each of the next two seasons.
Then, in 2004, Coker's team went 9-3 and repeated it again in 2005. When Miami went 7-6 in 2006, the writing was on the wall. Coker was out and what followed has been nearly two decades of mediocrity.
Can Miami, the U, ever return to the championship-level program it had during the 1980s and '90s?
The State of Florida
While the 'Canes were busy racking up national championships – 5 between 1983 and 2001 – top recruits from Florida picked Miami, Florida, or Florida State. In 1996, Central Florida, known as UCF, joined the ranks of the FBS. In 2001, it was South Florida's turn. In 2006, Florida International and Florida Atlantic also joined the FBS.
Now, those schools don't typically attract the same types of athletes as the state's Big 3, but there was now some added competition. It wasn't the only competition. 
Schools from around the country began to recruit the state's best players. They couldn't all go to Miami, right? Northern schools like Michigan and Ohio State would routinely recruit speed from the state of Florida. Recruits that may have chosen the U now had opportunities elsewhere.
Coaching 
Winning one national championship is hard enough. Winning multiple titles is something only a select group of FBS programs have ever done. One of the things that drives those repeat championships is coaching. It all starts from the top.
Think about Alabama and the success the Crimson Tide has had since Nick Saban took over as the program's head coach. Alabama has six national championships since 2007, when Saban first started. 
Saban, of course, is one factor, but it's also the rest of the coaching staff. Keeping a staff intact for a certain number of years builds continuity. One of the keys to Dabo Swinney's success at Clemson has been his ability to keep his assistants.
Now, Miami has gone through four head coaches and a ton of assistants since Coker was let go after the 2006 season. Randy Shannon was supposed to be the guy who would return Miami to greatness. He had been a player on Jimmy Johnson's 1987 national championship team. Shannon went 28-23 in four years and was shown the door.
Al Golden (36-27) was the next in a line of mediocrity. Mark Richt actually showed some life going 9-4 and then 10-3 with an ACC Coastal Division title. Then, he went 7-6 and peaced out. 
Another alum, Manny Diaz, could surely save the program right? No, he couldn't. After three seasons and a 21-15 record, Diaz was ushered out. All the while, any Miami assistant worth anything was poached by programs that were doing much better. 
Next Man Up
He's another Miami man. Mario Cristobal, who played for Johnson and for Dennis Erickson back in the U's heyday, will begin his second season in 2023 as the Hurricanes head coach. He went 5-7 in his first season after a successful 35-13 stint at Oregon.
Can he return Miami to greatness? Anything is possible, but for the 'Canes to get back to that 1980s/90s form seems highly unlikely. 
In 1983, Howard Schnellenberger led Miami to an 11-1 record and the school's first national championship. From that season all the way through Coker's final season in 2006, Miami won over 80 percent (.814, 237-54) of its games.
Since Shannon's first season in 2007, Miami is 111-78. They've won some bowl games, but the 'Canes have only played for a conference title twice since 2003. A .587 winning percentage is far cry from the 'Canes of old. 
To get an idea of how far Miami has fallen, look at the Hurricanes' odds to win this year's national championship – +15000. Texas A&M (+5000), TCU (+10000), and North Carolina (+10000) all have better odds than the once proud 'Canes.
Can they get back to championship form? Maybe once in a decade or two, but Miami will never match its run through the '80s and '90s.
-See the best and worst college football teams ATS in 2022-