Arm Yourself to Win More CFB ATS Bets
September 15, 2023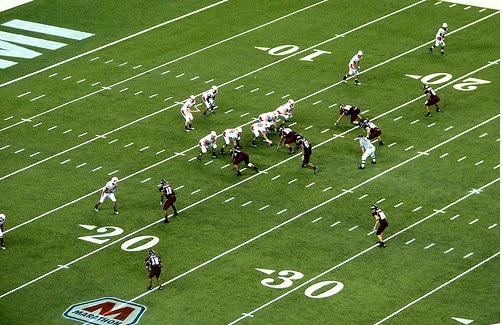 Every bettor would love to have that magic elixir that produces win after win. College football bettors are no different. With a full slate of games every weekend, NCAAF bettors have numerous opportunities to cash winning tickets, but many do not. 
If you are struggling to find the light, there are three statistical categories that you should be looking at in order to win more college football ATS bets. Today's game is little different than that of even 10 or 15 years ago. So, we took a look at the last five seasons and found that these three areas are the most important when it comes to betting against the number.
Explosiveness
There are a couple of different measurements bettors can use to examine explosiveness. There is Isolated Points per Play (ISOPPP) or Expected Points Added (EPA). Either one is a solid measure of big plays. Offensive coordinators are constantly in search of plays that eat up big chunks of yardage. 
Teams with multiple runs and passes over 20 yards typically put up a lot of points. It doesn't necessarily translate into wins or ATS wins, but teams with a high EPA number cover roughly 52 percent of the time. Bettors can't rely on explosiveness numbers alone. That's where Success Rate comes into play.
Success Rate
You really don't need to know how Success Rate is calculated, but it may help. The number of successful plays is divided by the number of total plays. The key here is what makes a successful play. That depends upon what down it is. 
A first down play is successful if it achieves 50 percent of the yards needed for a first down. On second down, a play needs to gain 70 percent of the yards needed for a first down. On third and fourth down, a play must gain 100 percent of the yards needed for a first down.
Translating this, you should be able to see that a gain of five yards on first down is much more important than gaining five yards on third-down-and-9. Success Rate, both on offense and defense, does translate into more ATS wins. 
The top 25 offenses over the last five seasons in Success Rate have covered the spread 53.9 percent of the time. The top 25 defenses in Success Rate have covered 54.6 percent of the time. The numbers are even greater if you look at the bottom of the Success Rate standings.
The bottom 10 percent of teams in Defensive Success Rate since 2018 have failed to cover the spread nearly 60 percent of the time (59.6%). In analyzing Success Rate numbers, the big thing is that if a team cannot produce roughly 42.5 percent success on offense or 41.6 percent on defense, they are going to have trouble covering a spread.
Finishing Drives
The key in identifying CFB teams to cover the spread may very well be the Finishing Drives metric. Offenses that finish drives and defenses that prevent them are much more likely to cover spreads. First, we need to understand that this metric is measured as points per drive inside the opponent's 40-yard line. If you reach your opponent's 40 and then score, you are more likely to cover the spread. That should make sense.
In the grand scheme of things, the top 25 percent of offenses since 2018 have covered at a 55.4 percent clip. On the other side, defenses that prevent scores when opponents get inside their 40 cover at a rate of 57.1 percent. 
Just like with Success Rate, we can dial it in even deeper on the teams that do not convert on offense inside an opponent's 40-yard line. The bottom 10 percent of CFB teams in Finishing Drives over the last five seasons fail to cover over 60 percent of the time (60.6%). It's still early in the 2023 NCAA football season, but using these three tools – Explosive Plays, Success Rate, and Finishing Drives – can help you win more ATS bets.