Betting History: Sportsbook Black Sunday, Super Bowl
October 4, 2013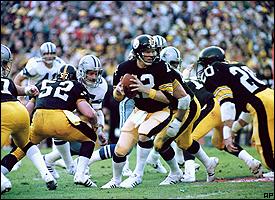 The Super Bowl, one of the biggest days of the year in sports betting, is infamous for its involvement in one of the darkest days in gambling (for the bookmakers at least, it was great for bettors!), otherwise known as Black Sunday in Las Vegas. It was January 1979, it was the Pittsburgh Steelers versus the Dallas Cowboys competing for the title of Super Bowl XIII Champions at the Orange Bowl in Miami, Florida. A lot was at stake with the game, both the Steelers and Cowboys were looking for their third Super Bowl win and it was a rematch for the two teams, the first in Super Bowl history.
The Steelers beat the Cowboys after a nail biter of a game. The Cowboys trailed 21 to 17 at the end of the third quarter. The Steelers pulled away with two quick touchdowns in the first nineteen seconds of the fourth quarter. The Cowboys rallied at the end of the quarter with two touchdowns as well, but were not able to close the final four point gap and the game ended with the Steelers at 35 and the Cowboys at 31.
The Las Vegas sportsbooks had set the opening line for Super Bowl XII with the Steelers favored by 4.5 points. So many people were putting their money on a win by the Cowboys that the line moved a couple times before finally settling at -3.5. This movement was a huge mistake by the sportbooks. A final score of 35-31 meant the early bettors won their bets with the 4.5 line and the late bettors also won at -3.5. Those who set bets in between at 4 and -4 got a push and therefore their bets were refunded. This meant that winners were awarded much more than the sportsbooks earned during the game; millions of dollars were lost by the books marking the day as Black Sunday.
Since 1991 (the Nevada Gaming Control began to officially track Super Bowl bets in 1991), Vegas has only lost money on two Super Bowls so it is highly out of the ordinary for them to take a loss especially in the millions like on Black Sunday. The last twenty-two Super Bowls have earned just under $120 million for Vegas so they are hardly hurting especially when considering the biggest Super Bowl take by the books was $15.4 million (Patriots vs Eagles in Super Bowl XXXIX) and the biggest recorded loss was $2.5 million (Giants vs Patriots in Super Bowl XLII). I guess it was just the unlucky 13 that burnt the sportsbooks.