Most Popular College Football Win Total Over Unders
August 7, 2018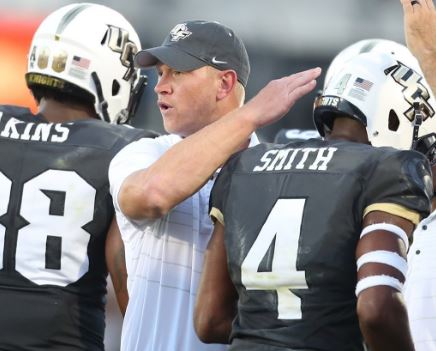 You can bet on season win futures at most any sportsbook. Its a fun way to test your knowledge about an upcoming season that requires some real studying. You basically have to know which players departed the team and how good the new crop of players who are replacing them will be. Its no easy task. But it is not an impossible one.
Every facet of the team can affect the total win outcome. Recently, when there was some hub-bub around the Ohio State football program, the public started betting the UNDER. This caused many sportsbooks to pull Ohio State off the board until the situation became clearer. If it appeared Head Coach Urban Meyer would be removed or step down, that could mean the team may win less games this season. But, it does not appear that will be the case and the season win total is posted once again at 10.5 wins.
Yesterday, Youwager.eu posted the more popular win total Over/Unders:
Alabama 11
Arkansas 8½
Auburn 9
Boise State 10
UCF 9½
Clemson 11
FAU 8½
Georgia 10½
Miami FL 9½
Michigan 9
MSU 9
Notre Dame 9½
Ohio State 10½
Oklahoma 10
Oregon 8½
PSU 9½
SDSU 8½
SFU 8½
Washington 10½
Wisconsin 10
A few items that jump out at me is that UCF is listed as a team of public interest, but the school that Head Coach Scott Frost left UCF for, Nebraska, is not listed. Gone are the days when the Cornhuskers were mentioned in the national title conversation. Although, they are expecting coach Frost to return them to their former glory. In case you were wondering the Nebraska Cornhuskers win total over/under is 6.5 games.
I think Michigan at 9 games is a solid OVER play. According to my calculations they should be about a 9.5. Either bet is tough because who they play this season; Notre Dame, Penn State, Wisconsin and Ohio State. They should win at least two and maybe even three of those big games. And even if they lose to one of the underdogs on the rest of the schedule (watch out for Mich State) that still gives the 9 win total a PUSH or a WIN.
Oh, something I personally think that sucks about betting season win totals is that the sportsbook sits on your money for five months until the outcome plays out. I hate having money just sitting there.