DirectBet Sportsbook Closes
May 22, 2017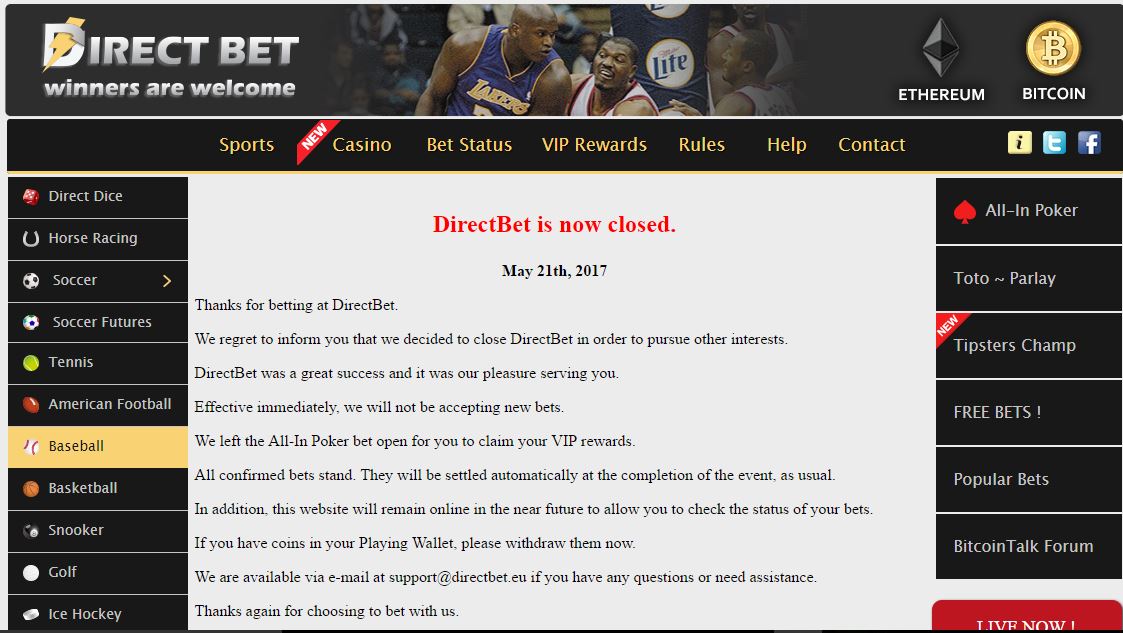 The online direct betting sportsbook known as Directbet (SBA Rating C-) announced its closure last night. Directbet Sportsbook allowed people to place their wagers by sending bitcoin to an address. If the wager won, the player would receive the winnings back in their BTC account. They later started accepting Ethereum, another cryptocurrency.
We first reviewed DirectBet back in October of 2016. You can see that review here: Directbet Sportsbook Review
This morning Directbet users logged on to the website and saw this message, which we have copied and pasted here (from their website):
"Thanks for betting at DirectBet.
We regret to inform you that we decided to close DirectBet in order to pursue other interests.
DirectBet was a great success and it was our pleasure serving you.
Effective immediately, we will not be accepting new bets.
We left the All-In Poker bet open for you to claim your VIP rewards.
All confirmed bets stand. They will be settled automatically at the completion of the event, as usual.
In addition, this website will remain online in the near future to allow you to check the status of your bets.
If you have coins in your Playing Wallet, please withdraw them now.
We are available via e-mail at [email protected] if you have any questions or need assistance.
Thanks again for choosing to bet with us.
Good Luck !
DirectBet"