Final 2018 Kentucky Derby Odds Preview and Pick
May 4, 2018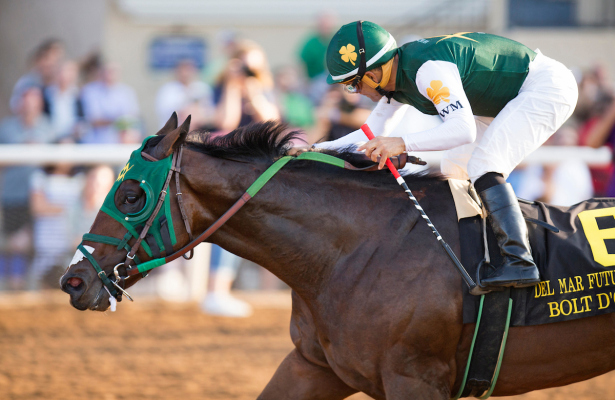 Saturday, May 5, 2018 showing on NBC. The post time is 6:34 pm EST and the actual race is scheduled for 6:46 pm EST.
We have written several articles leading up to the 2018 Kentucky Derby because the favorite has changed so many times. This year really seems like it is wide open. Any one of six or seven horses could win Saturday if they have a little extra giddy up in their step.
Many sportsbooks have similar odds on this race but they can also be quite different depending on the action they get. Usually horse racing is set up on a system called pari mutuel betting. This is where all the bets are taken into an overall pool and the payout is divided by ever-changing odds after the house takes out taxes and vig. If you bet the race at the track, this is how they decide payouts.
Below is a list of current odds from different sportsbooks. I personally liked a horse named McKinzie, who in a controversial race we featured earlier this year, was robbed of a win, charged with "lane interference". looking at the film, around the final turn you can see McKinzie actually being interfered with by Balt d'Oro (opposite of the charge). McKinzie is out for this year's Triple Crown series because of a leg injury.  Anyhow, Justify is the overall favorite at +350. I never like taking overall favorites so I am taking Audible at +600 and Balt D' Oro at +900. If you must pick a heavy underdog, take the #1 horse Firenze Fire +10,000
Odds Primer
If you bet a hundred dollars on a horse to that is +350 and they win. You win $350. If you bet $100 on a horse that is +4000, you win $4,000 USD if that horse wins.
Odds by Intertops. Listed by shortest to longest odds.
Lane – Name – Odds (underneath
7.Justify +350
14.Mendelssohn +350
5.Audible +600
16.Magnum Moon +750
6.Good Magic +900
11.Bolt d'Oro +900
9.Hofburg +1600
18.Vino Rosso +1600
17.Solomini +2000
10.My Boy Jack +2500
19.Noble Indy +2500
12.Enticed +2800
2.Free Drop Billy +4000
8.Lone Sailor +4000
3.Promises Fulfilled +5000
4.Flameaway +5000
13.Bravazo +5000
15.Instilled Regard +5000
21.Blended Citizen (Reserve) +5000
20.Combatant +6600
1.Firenze Fire +10000
HERITAGE RACEBOOK FLATLINES (Listed by lane)
Lane – Name – Odds
Firenze Fire 50/1
Free Drop Billy 30/1
Promises FulFilled 30/1
Flameaway 30/1
Audible 8/1
Good Magic 12/1
Justify 3/1
Lone Sailor 50/1
Hofburg 20/1
My Boy Jack 30/1
Bolt d'Oro 8/1
Enticed 30/1
Bravazo 50/1
Mendelssohn 5/1
Instilled Regard 50/1
Magnum Moon 6/1
Solomini 30/1
Vino Rosso 12/1
Noble Indy 30/1
Combatant 50/1
Blenden Citizen 50/1
PROP BET – INTERTOPS
Will there be a Triple Crown Winner for 2018?
YES +550
NO -1000
MORE ODDS
Bovada – go to racebook
Justify 7/2
Audible 13/2
Mendelssohn 4/1
Magnum Moon 15/2
Bolt d'Oro 17/2
Good Magic 11/1
BetUS
Justify +300
Mendelssohn +400
Magnum Moon +550
Audible +700