First College Football Playoff Poll Has Georgia No. 1 But Odds makers Think Differently
November 3, 2017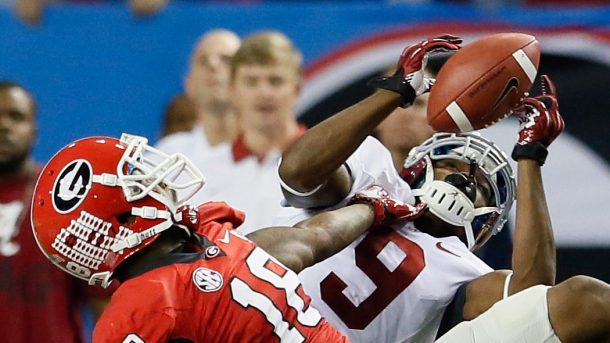 This week the first College Football Playoff rankings were released and the Georgia Bulldogs are No. 1, but not surprisingly, sportsbooks have been saying if the Bulldogs were pit against the No. 1 ranked team in the AP Top 25, the Alabama Crimson Tide today, Georgia would be at least an 11.5-point dog at a neutral field.
One odds maker said that Georgia wants to run the ball between 40 and 50 times per game while going into a huddle after each play and no team has rushed successfully against Alabama without playing hurry-up or no-huddle offense.
The CFP committee decides it rankings on what has already taken place through nine weeks of the season, while odds makers look at what is likely to happen for the remainder of the season and not just what has been played since late August.
That is why to no one's surprise unless you play or cheer for Georgia, Alabama is favored to win the national championship in January and not the Bulldogs, the team atop the first rankings for the CFP.
Georgia was given a slight edge in the CFP rankings from the selection committee for the wins over top-25 teams including Mississippi State and Notre Dame.
The Crimson Tide and Bulldogs will most likely meet in the SEC Championship game if things play out the way they are expected to over the final weeks of the regular season.
Thus far two of the three eventual winners of the national championship since the CFP has been instituted opened the first CFP rankings of the season in the top four.
However, the committee has not always selected quite right either. The group had Florida State, Mississippi State, Mississippi and Auburn in the top four of the first ranking back in 2014. Only FSU ended up playing in the four-team CFP after the regular season ended.
Over the same time, odds makers have ended up with a far better track record of picking the four teams to play in the CFP and the eventual national championship in the three years it has been played.
While football pundits believe the committee works hard to come up with its rankings, using the odds that sportsbooks update each week would be more accurate in projecting which four teams should qualify for the CFP.