Upsets Alter National Championship and Heisman Races
October 10, 2017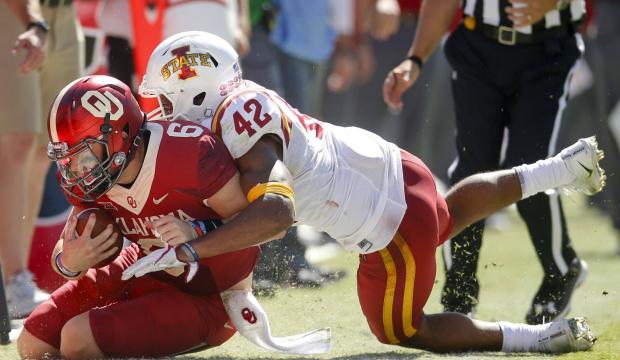 Entering Week 6 of the college football regular season it appeared there were not "big" or "important" matchups as only two games featured ranked teams facing off against one another.
However, with the unpredictability of college football, one never knows what might happen. The dogs came to town in Week 6 and walked away with the spoils.
The biggest upset in Week 6 was Iowa State beating Oklahoma 38-31. The then-No. 3 ranked Sooners were 30.5-point chalk but fell to the Cyclones and hurt their chances of winning a national championship.
Oklahoma was 10 to 1 to win the national title entering the weekend, but sportsbooks have dropped the Sooners to 25 to 1 following the loss.
The Michigan Wolverines entered the weekend No. 7 in the nation and hosting the Michigan State Spartans. The defense for the Spartans came to play and even though they were 13-point dogs, defeated the Wolverines 14-10 in a defensive battle.
Michigan has lost quarterback Wilton Speight for the foreseeable future with an injury, and that combined with last weekend's loss to Michigan State ballooned the Wolverines' odds for the national championship to 30 to 1 from 15 to 1.
Four of the top 5 teams won during Week 6 to remain in the Top 5. Penn State, which moved up to No. 3 on the Oklahoma loss, has a rough stretch ahead against ranked teams like Michigan, Ohio State and Michigan State.
It appears No. 1 ranked Alabama will finish the season undefeated as they do not face a ranked opponent until late November at Auburn.
No. 2 ranked Clemson also looks ready to finish the regular season undefeated, as the Tigers have just one ranked opponent left on the schedule in the form of North Carolina State November 4.
Alabama currently is 6 to 5 to win the title, while Clemson trails at 4 to 1, Ohio State 6 to 1, Penn State 12 to 1 and Washington 15 to 1.
A big surprise is the No. 5 ranked team in the country this week. The Georgia Bulldogs have moved up to 20 to 1 to win the national title.
Oklahoma quarterback Baker Mayfield has been ranked high on the Heisman Trophy futures board. In Saturday's loss, he threw for 306 yards while rushing for another 57, but the loss hurts his chances to win the coveted trophy.
Currently Mayfield sits at +325 on the futures board for the Heisman, while Saquon Barkley the sensational running back for Penn State is the current favorite at +125.