France Favored Slightly Over Germany in Euro Semifinal
July 7, 2016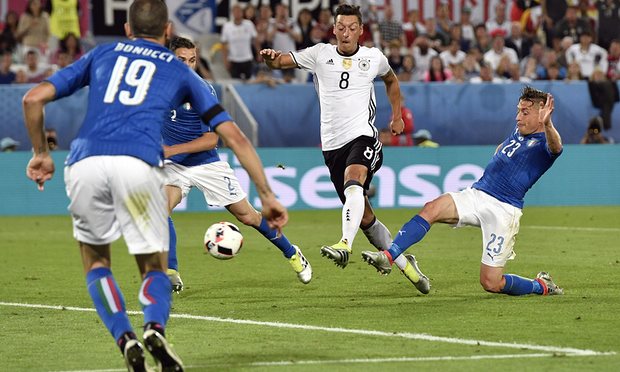 The second of the two Euro 2016 semifinals will be played in Marseille, France on Thursday between two of the biggest names in soccer over the past decade Germany and France.
On Wednesday, two unlikely semifinalists played when Portugal defeated Wales 2-0 to move on to the final to face the winner of Thursday's clash between two titans of the sport.
Odds makers have the game a near deadlock even though France holds an advantage playing at home. The opening lines for this match had both clubs the same at 15 to 8 to win.
However, France has been pushed slightly towards the favorite in betting over the past two days. As of Wednesday late afternoon, many online odds makers were offering France at 9 to 5 to win and Germany as high as 2 to 1 to win.
Germany, just two years prior to this were in a similar type of situation: a near tossup for a semifinal match against the host team. The result of that was the Germans defeated Brazil 7-1 in the 2014 World Cup semifinals.
Both clubs have played well during the tournament with France beating Iceland 5-2 in the quarterfinals after leading 4-0 at the half.
Germany had a tougher time in their quarterfinals match. The Germans fought Italy to a draw after regulation and 30 minutes of extra time.
The penalty shootout between the two clubs was the highlight of the match with Germany finally winning after each club took 9 shots.
Germany looks to have more strength up front and at the defensive end. In midfield, the two clubs are nearly even. Both goalies are very good.
This match could easily finish at a 0-0 draw in regulation as well as through two 15-minute periods of extra time with penalties deciding it.
France will be looking to extend its current unbeaten streak to 18 matches as the host nation of an international tournament. France has scored 11 goals in its 5 matches thus far in the tournament.
Germany had four straight clean sheet wins in the tournament before its 1-1 quarterfinal against Italy.
Head to head the Germans have beaten the French in the past three matches they have played, including the quarterfinals of the 2014 World Cup in which Germany won 1-0.
The Germans looks too strong for the French today.