J.J. Watt Favored to Be Top Defensive Player in NFL
August 8, 2017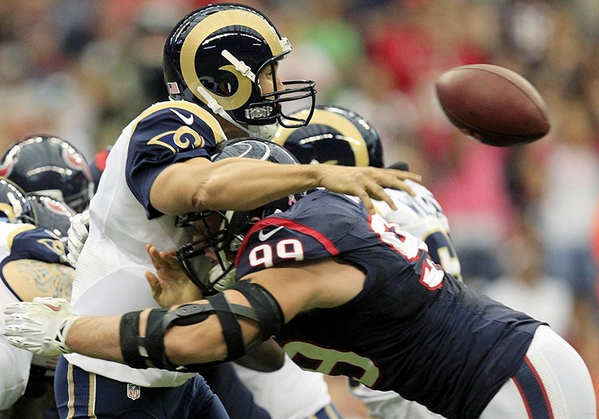 The NFL season is now just one month from its opening kickoff. Teams will begin their preseason schedule this week with offensive and defensive coordinators preparing their schemes. Even though the league has become pass-happy and offensive-minded, defense helps win games and having a top defender can make a huge difference.
Sports bettors can now make wagers on what player will be named the NFL Defensive Player of the Year. Sitting at the top of that list is Houston Texans' defensive end J.J. Watt. Watt has won the award three times during his six year NFL career.
Few players in the NFL are able to impact a game like Watt can. Whether he is pressuring the opposing quarterback, breaking through the line for a tackle for a loss or batting down a pass, Watt is as versatile as they come.
It is therefore no surprise that he is the 5 to 2 favorite to win the top individual award for the defense in the NFL. However, it will not be easy as last year he underwent two surgeries on his back, but he is expected to be 100% and at full speed for the season opener September 10.
Just behind Watt at 4 to 1 are two pass rushers in Von Miller and Khalil Mack. Denver linebacker Miller has recorded 11 or more sacks in each NFL season he has played. Even though he is considered a sack specialist, Miller has become much better at stopping the run.
Mack, a defensive end for the Oakland Raiders was the DPOY last season after recording 73 tackles, 11 quarterback sacks and 5 forced fumbles. Mack pressures quarterbacks more than any other one player in the NFL.
The other two players rounding out the top five for DPOY following Watt, Miller and Mack are Los Angeles Chargers defensive end Joey Bosa and Carolina Panthers linebacker Luke Keuchly. Bosa, who was impressive as a rookie last season, has 8 to 1 odds, while Kuechly the veteran linebacker for the Panthers is 12 to 1.
One player, who may be a dark horse in the DPOY race and has value at 12 to 1, is Los Angeles Rams interior lineman Aaron Donald. With Wade Phillips the new defensive coordinator with the Rams, Donald's play will become even more important in disrupting opposing offenses.