Looking for a Lock for Super Bowl XLVIII? Las Vegas Sportsbook Action
December 2, 2013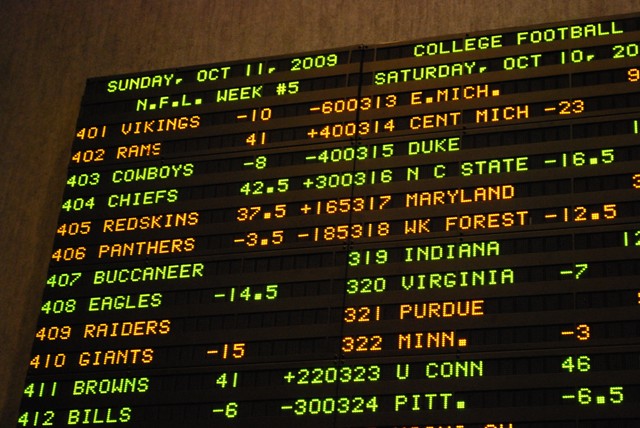 Nobody can predict the future but if you're looking for a lock for the 2014 Super Bowl your best bet is probably to follow the Las Vegas Sportsbooks. Nevada Gaming Control began to track Super Bowl betting in 1991 and since then the state's sports books are up $119.4 million on the NFL championship game, losing money only twice in the last 22 Super Bowls. Those are odds you should take every time.
During the previous 22 Super Bowls more than $1.6 billion dollars has been wagered on the Super Bowl in Nevada and the biggest win for the sportsbooks came in Super Bowl XXXIX when Nevada sportsbooks took $15.4 million in a game when the Eagles covered the spread, losing 24-21 to the Patriots.
Interestingly the Pats were also involved in the Vegas sportsbooks largest Super Bowl loss when the New York Giants upset New England in Super Bowl XLII, costing Las Vegas books $2.5 million. The only other loss for Vegas sportsbooks came in Super Bowl XXIX when the 49ers covered the spread as big favorites versus the Chargers. That game cost Vegas sportsbooks $396,674.
To date the largest amount was bet on Super Bowl XL – a game between the Steelers and the Seattle Seahawks. That year the NFL's biggest game generated $94.5 million – professional football's largest handle.
For the bettor that wants to play the odds and increase his chance of a payday it's wise to pay attention to history. This includes the results of previous Super Bowl games but it also includes the action of Las Vegas' sportsbooks – a team which has earned a 20-2 record when betting the Super Bowl.
Super Bowl XLVIII will be held on Sunday, February 2, 2014 at MetLife Stadium in East Rutherford, NJ and while we don't yet know who will be playing this year on the NFL's greatest stage, it's clear that following the lead of Vegas sportsbooks will put the odds in your favor for placing a winning bet.
As you prepare for this season's big game, we thought to offer the point spreads for every previous Super Bowl:
All-time point spreads in Super Bowls (Updated January 2019)
Super Bowl I: Green Bay (-14) vs. Kansas City
Super Bowl II: Green Bay (-13) vs. Oakland
Super Bowl III: Baltimore (-18) vs. New York Jets
Super Bowl IV: Minnesota (-12) vs. Kansas City
Super Bowl V: Dallas (-2.5) vs. Baltimore
Super Bowl VI: Dallas (-5) vs. Minnesota
Super Bowl VII: Washington (-1) vs. Miami
Super Bowl VIII: Minnesota vs. Miami (-6.5)
Super Bowl IX: Minnesota vs. Pittsburgh (-3)
Super Bowl: X: Dallas vs. Pittsburgh (-7)
Super Bowl XI: Minnesota vs. Oakland (-4)
Super Bowl XII: Dallas (-6) vs. Denver
Super Bowl XIII: Dallas vs. Pittsburgh (-3.5)
Super Bowl XIV: Los Angeles Rams vs. Pittsburgh (-10)
Super Bowl XV: Philadelphia (-3) vs. Oakland
Super Bowl XVI: San Francisco (-1) vs. Cincinnati
Super Bowl XVII: Washington vs. Miami (-3)
Super Bowl XVIII: Washington (-2) vs. Oakland
Super Bowl XIX: San Francisco (-3) vs. Miami
Super Bowl XX: Chicago (-10) vs. New England
Super Bowl XXI: New York Giants (-9) vs. Denver
Super Bowl XXII: Washington vs. Denver (-3.5)
Super Bowl XXIII: San Francisco (-6) vs. Cincinnati
Super Bowl XXIV: San Francisco (-12) vs. Denver
Super Bowl XXV: New York Giants vs. Buffalo (-7)
Super Bowl XXVII: Dallas (-10.5) vs. Buffalo
Super Bowl XXVIII: Dallas (-10.5) vs. Buffalo
Super Bowl XXIX: San Francisco (-18) vs. San Diego
Super Bowl XXX: Dallas (-13.5) vs. Pittsburgh
Super Bowl XXXI: Green Bay (-14) vs. New England
Super Bowl XXXII: Green Bay (-11) vs. Denver
Super Bowl XXXIII: Atlanta vs. Denver (-7.5)
Super Bowl XXXIV: Tennessee vs. St. Louis (-7)
Super Bowl XXXV: New York Giants vs. Baltimore (-3)
Super Bowl XXXVI: New England vs. St. Louis (-14)
Super Bowl XXXVII: Tampa Bay vs. Oakland (-3.5)
Super Bowl XXXVIII: Carolina vs. New England (-7)
Super Bowl XXXIX: Philadelphia vs. New England (-4)
Super Bowl XL: Seattle vs. Pittsburgh (-4)
Super Bowl XLI: Chicago vs. Indianapolis (-7)
Super Bowl XLII: New York Giants vs. New England (-14)
Super Bowl XLIII: Arizona vs. Pittsburgh (-6.5)
Super Bowl XLIV: New Orleans vs. Indianapolis (-5)
Super Bowl XLV: Pittsburgh vs. Green Bay (-2.5)
Super Bowl XLVI: New York Giants vs. New England (-2.5)
Super Bowl XLVII: Baltimore vs. San Francisco (-5)
Super Bowl XLVIII: Seattle vs. Denver (-2.5)
Super Bowl XLIX: Seattle vs. New England (Pick em')
Super Bowl L: Carolina (-5) vs. Denver
Super Bowl LI: Atlanta vs. New England (-3)
Super Bowl LII: Philadelphia vs. New England (-4)
Super Bowl LIII: L.A. Rams vs New England (-2.5)