Mayweather Jr. vs McGregor Bout Could Have Record Handle
August 26, 2017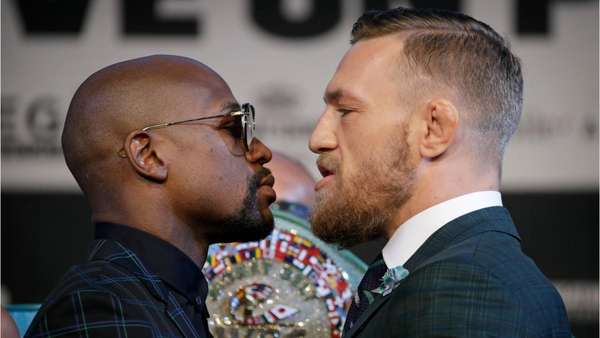 Sportsbooks are expecting more money to be bet on Saturday's Floyd Mayweather Jr. vs Conor McGregor bout than on any previous boxing match ever, when the opening bell rings to start the fight.
Already, many sportsbooks from the U.S. to the United Kingdom and across Internet have set records for betting for one boxing match.
Several sportsbooks as early as Thursday surpassed the betting handle for the 2015 bout between Mayweather and Manny Pacquiao, which set the previous record for the most heavily bet boxing match.
It was estimated that the Mayweather-Pacquiao bout attracted more than $60 million in bets in just Nevada back in 2015. Odds makers expect the handle for the fight on Saturday to surpass that amount with estimates of up to $80 million.
On Thursday, two bets on Mayweather were placed of $1 million each, which is one more bet for $1 million than was taken earlier this year on Super Bowl LI.
One sportsbook said it had already taken more bets of six figures on this fight than it took for the Super Bowl.
Depending upon where you looked as of late Friday, odds on Mayweather winning were between -500 and -600 in the U.S., while sportsbooks in the UK had them at between -450 and -475. McGregor is seen as the 4 to 1 dog on most sportsbooks.
Odds makers believe that although the numbers are huge at this point for the overall handle, a large amount of betting action will come during the day and into the evening on Saturday, since the majority of people betting wait until fight day.
McGregor by far is attracting more bets than Mayweather. In one sportsbooks, over 90% of the tickets were on McGregor, while at another close to 80% were on the underdog.
In the UK, it is expected that industrywide sportsbooks will have a handle of $250 million on this bout.
Although the boxing match is drawing huge betting figures, soccer matches such as World Cup Finals, attract far more in Europe, nevertheless, this boxing match is setting records for its sport worldwide.