Odds for Power 5 Conference Champions
August 23, 2017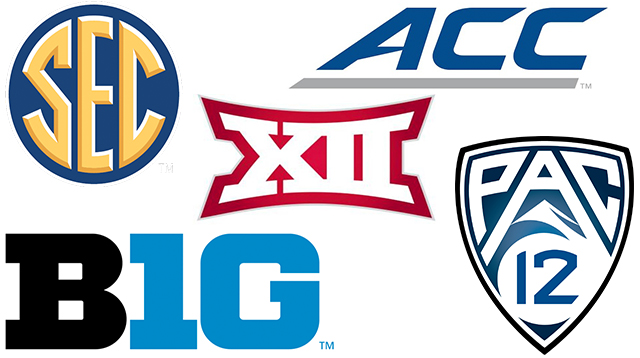 Earlier this week the AP released its annual preseason Top 25, which for most of the college football world was of even more importance than Monday's solar eclipse.
Alabama was picked No. 1 over No. 2 Ohio State, with Florida State No. 3, USC No. 4, and Clemson the defending champions at No. 5.
This will all change after September 2 as Alabama will face Florida State.
Championship odds for conferences including the Power 5 are also available on sportsbooks futures boards for sports bettors.
ACC
The ACC still trails the SEC in quality of teams, but is narrowing the gap. Florida State is favored to win the conference title at nearly EVEN money, while Clemson is 3 to 1 and Louisville 9 to 2. Miami is close by at 5 to 1.
Big 12
Oklahoma begins the Lincoln Riley era. Odds makers have the Sooners at EVEN money to win the conference followed by Oklahoma State at 5 to 2 and Kansas State at 7 to 1. West Virginia lost a number of players but cannot be counted out at 25 to 1. This season the Big 12 will hold its first championship game and most expect an in-state showdown between Oklahoma and Oklahoma State.
Big Ten
The Big Ten is loaded with strong teams. Ohio State is favored to win at 5 to 7, while Wisconsin is 5 to 1, Penn State 6 to 1 and Michigan 7 to 1. Quarterback J.T. Barrett has proven he can win and looks to lead his Buckeyes to a conference title. However, Penn State returns with a strong team and the defending conference champions could upset Ohio State with help from Saquon Barkley, the top running back in the nation.
Pac-12
USC is favored at EVEN money, but Washington at 9 to 5 has great value. The Huskies won last year's championship routing Colorado 41-10. Nevertheless, the Trojans will have Heisman Trophy favorite Sam Darnold under center and he is expected to lead the Trojans to another conference title shot and a College Football Playoff berth.
SEC
No surprise here. Alabama is 4 to 9 to win the SEC for the fourth straight season. The last that the Crimson Tide did not win the conference title was in 2013 after Auburn, which is 6 to 1 this season, beat them in the Iron Bowl. Auburn has value going in but must play both Georgia and Alabama in November. LSU is also 6 to 1 and could be the conference spoiler, while Georgia at 8 to 1 and Florida at 12 to 1 should battle for the East division top spot.