Presidential Election Odds On a Roller Coaster Ride
November 7, 2016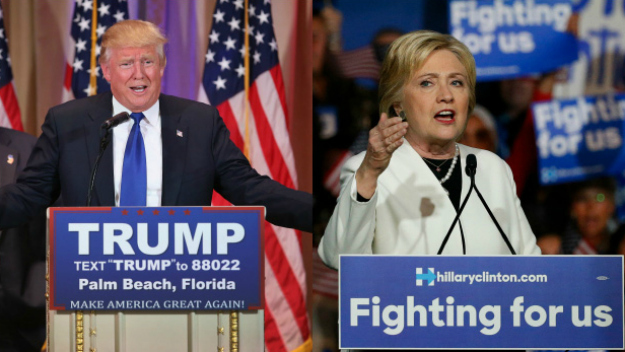 The 2016 U.S. presidential election is just 24 hours away. The odds over the past month have taken a roller coaster ride and shifted drastically.
If sports bettors had to deal with these types of odds bouncing up and down, their life would be very complicated when it came time to make their wagers.
During just the last month, Hillary Clinton the Democratic Presidential nominee has gone from a -205 favorite to a bigger -550 favorite back down to a -325 favorite.
Odds normally do not take that type of roller coaster ride during such short time frames.
The first big shift in odds came following the video of Donald Trump the Republican nominee that showed him using foul language and talking about how he grabbed women. At that time, Clinton jumped to a strong -550 favorite.
Sportsbooks at the time were smiling, as they have a huge liability on Trump following him opening on most sportsbooks at 150 to 1 and desperately need a win by Clinton.
Then an announcement two weeks ago by the FBI that is was once again reviewing its own investigation into the former Secretary of State's email caused a big movement in the odds.
Sportsbooks at that time frowned as Clinton dropped to a -325 favorite. Some online sportsbooks even took the line down completely after the FBI release.
However, over the weekend, the FBI released another statement that said after reviewing the emails again, that they did not find any significant change and their previous statement that they would not file charges still stands.
The FBI statement was a huge boost for Clinton, but odds makers have yet to make any type of adjustment following that announcement.
As it stands now, Clinton is still the favorite to be elected president at -375, while Trump is sitting at +275. The huge long shot at +5000 is any other candidate winning the election.
A number of voters have already cast their ballots in early and absentee voting and the change over the weekend likely did not affect their vote.
Results will start rolling in after 6:00 p.m. ET on Tuesday November 8 and sportsbooks will be on the edge of their collective seats until the final results are announced.