Raiders and Steelers Playing "Look Ahead" Games Sunday
September 24, 2017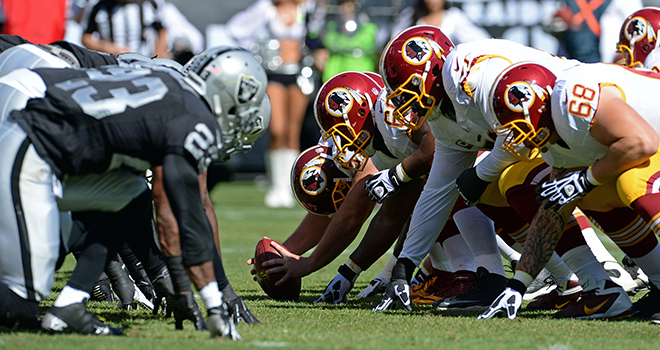 Over the last decade, NFL teams that are playing a non-conference game the week prior to a divisional game on the road are 27-54 straight up and 34-36-1 against the spread in the non-conference games.
If you have been around sports betting for any length of time chances are you have heard of "look ahead games" or "trap games."
However, more importantly is if, as a bettor you take them into consideration when making weekly wagers. Some sports betting pundits believe there is solid value in the identification of those scenarios, while others believe them to be just a distraction from more important numbers or betting scenarios.
Regardless of what side of the street you sit on it is, they should be at least used to factor in when deciding what the pick to make on a specific game is.
On Sunday, two games fall into categories similar to what has been described above as trap games or look ahead games. The two games are Oakland visiting Washington and Pittsburgh traveling to Chicago.
The Raiders and Steelers both play non-conference road games one week prior to playing a divisional game on the road. Oakland must travel cross-country to face Washington prior to visiting AFC West rivals Denver during Week 4, while Pittsburgh visits Chicago in Week 3 then travels to face AFC North rivals Baltimore during Week 4.
The thought process is that divisional games are much more important for teams than games against a non-conference opponent. However, logic tells us that all 16 games during the season have the same value, but logic is not always at work when it comes to betting on the NFL.
Teams may or may not lose focus the week prior to an important divisional showdown, or they just might be outplayed by their opponent on that day.
Regardless, of what the actual truth is, there must be some weight put into teams playing .333 (27-54) straight up against non-conference opponents on the road prior to an important divisional showdown on the road the next week.
As they say, at the least it is "food for thought."