Thanksgiving Day Action Report
November 23, 2017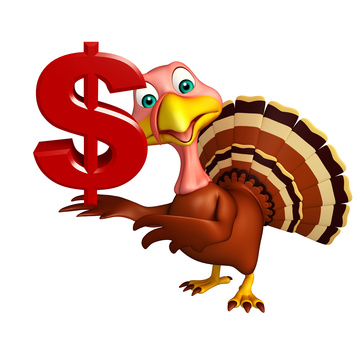 For 2019 Thanksgiving Day football report click here
It's Thanksgiving Day 2017 and we have three NFL games on the football betting board. The sportsbooks are looking for a better week than the one they just had. Usually large wagering action has to wait until Saturday to reach high volume. Thanksgiving Day offers sportsbooks and bettors a chance to get ahead on their weekend.
Game #1 Detroit vs Minnesota
This game features a very hot Minnesota team. There is nothing the public likes more than a hot team. The Vikings are only favored by 2.5 points in this one because the home team's Thanksgiving Day advantage counts for something. If this were a neutral field and not Thanksgiving you could see the Vikings being favored by as much as a full TD (Vikings -7). The action report provided by BetOnline.ag has 80% of the public wagering action on Minnesota as road favs.
Game #2 Dallas vs Chargers
After the Dolphins beat the Chargers in week 2 of the season few thought the Chargers had any chance to be successful in 2017. They chalked it up to playing in L.A. (a new city and stadium for them) and players commuting long distances. But the Chargers have managed to post a 3-2 record in their last 5 games including an absolute rout of Buffalo last week 54-24. The sports betting public is usually of the " what have you done for me lately" mindset and after the Cowboys got shredded on MNF they are now underdogs to the once lowly Chargers by 2.5 points at home. 60% of the betting public is on the Chargers.
Game #3 Giants vs Redskins
The third leg of the NFL triple header has NY visiting Washington DC. The network probably figures you will be good and drunk on tryptophan and libation so much so that you will care if this game is any good or not. At any rate, Washington is favored by an even touchdown (-7). Betonline.ag reports that a full 72% of the betting public is on the Redskins. My take on this game is that this would be a good ATS (against the public) play on The NY Giants. Buy the hook if you can and you'll be starting the game with more than a TD in your front pocket.
Note: Buying a half of a point or even a point or two is available at most reputable online sportsbooks. You risk more money to win the same amount if you buy points. Example: usually you risk 110 to win 100 on a spread wager, in this example you bet Team XYZ at -3 (-110). If you buy down the spread to Team XYZ -2.5 (-120) You are now risking 120 to win that same 100.