Two Possibly Three Rookie QBs Could Start in 2017
August 12, 2017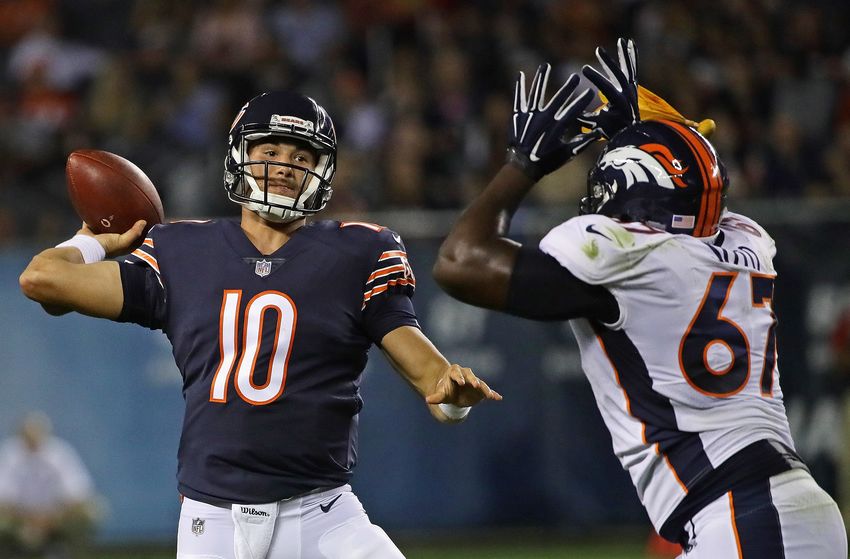 With the 2017 NFL preseason just getting underway, rookie quarterbacks are trying to work their way into a starting spot.
Even though 10 quarterbacks were chosen between the second and 253rd pick in the draft, just two have any legitimate chance of starting the 2017 regular season unless an unforeseen injury occurs.
The rookie signal caller with the best odds of starting this season is Mitchell Trubisky with the Chicago Bears. Chosen No. 2 in the draft overall, he could overtake Mike Glennon during the preseason and become the starter in Week 1.
Glennon completed just 2 of his 8 passes and threw one interception against Denver, one of the best NFL defenses. Trubisky came in after Glennon and hit 18 of his 23 passes for 166 yards and a TD to Victor Cruz.
Trubisky did not face the number one defense of the Broncos but he played far better than Glennon. He will need time to develop and that is why Glennon was signed to start the season, but patience is short for terrible quarterbacks in the league.
The Bears are 50 to 1 longshots to win the NFC North. With Trubisky under center those odds could shorten slightly, but at least the pressure would be off him in his first season as the team is not expected to compete for a division title.
The other rookie who could start in Week 1 of the season is Houston's Deshaun Watson the first round draft pick from Clemson. In his preseason debut Watson played very well including scrambling for a 15-yard touchdown. He completed 15 of his 25 passes for 179 yards.
Houston head coach Bill O'Brien has named Tom Savage the starting quarterback, but with three preseason games remaining that could change.
Houston is +190 to win the AFC South this season, but if Watson were to start from the beginning, those odds would shorten.
One other rookie quarterback who has very slight chance of starting is DeShone Kizer with the Cleveland Browns. He is competing against two other veterans and will likely end up the backup to one of them when the season begins.
If you are betting on what rookie will start at quarterback to begin the 2017 regular season, the best two odds are on Trubisky and Watson.