World Cup Free Pick: Mexico vs Germany
June 16, 2018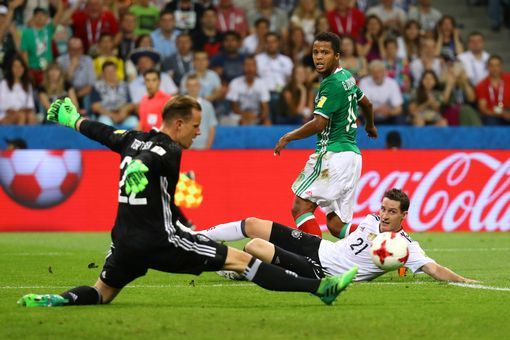 Germany will begin its defense of the World Cup title on Sunday in a match that could be their toughest during the group-stage, when they play Mexico. The Group F showdown will be played in Moscow at Luzhniki Stadium.
Odds makers have the current line with Germany favored at -182 with the total goals sitting on 2.5. That could and likely will change between now and match time, so check back here before kickoff on Sunday.
If you're looking at betting on the World Cup this year then it's important that you check out the bookmaker offers available. The best place to do this on Oddschanger as it has a page dedicated to the best bookmaker offers.
Dating back to 1994, Germany has been a dominant force when it comes to group-stage play with an accumulated record of 13 wins, 4 draws and 1 defeat. However, leading up to the World Cup, Germany has won just one match in its six preparation friendlies.
In World Cup qualifying in CONCACAF, Mexico dominated, but has struggled at the offensive end in its most recent friendlies with just one goal scored in its last four matches.
Germany's goal is to become the first team to win consecutive World Cup titles since 1962 when Brazil was the last to accomplish that. During its UEFA qualifying for the World Cup, Germany won each of its 10 matches to finish atop Group C, while outscoring its opponents by a margin of 43 to 4.
However, it has been difficult for the Germans to maintain momentum leading up to the World Cup as they had to settle for draws with Spain, France and England, prior to losing matches to both Austria and Brazil by one goal in each. The Germans did recover from those defeats to beat Saudi Arabia 2-1 last Friday in their final pre-Cup friendly.
Germany has won each of its last six openers in group-stage World Cup action, but against a Mexican side will face stiff competition.
El Tri, as they are affectionately called by their fans, gave up only one goal ending with five wins and one draw in qualifying before three clean-sheet victories in friendlies before losing 2-0 to Denmark last Saturday in its last tune up match.
The Mexicans need a quick fix for their drought on the offensive end if they hope to score against the Germans.
Mexico has lost three straight matches to Germany, including a 2-1 setback in the round of 16 in the 1998 World Cup, which until they meet on Sunday, was their only head to head match with Germany in the World Cup.
Prediction: Germany is a well-oiled machine on the pitch and although they rarely play with any flare, they seem to be on top after 90 minutes most of the time. Germany wins this match 2-0.