Against the Public Betting Strategy
September 3, 2013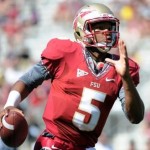 We love to delve into the numbers before a big marquis game here at Sportsbook Advisor. Tonight is a College football match-up between Pittsburgh and Florida State. The game kicks at 8:00 pm EST and the spread has FSU favored by 10 points and the total is at 48.
We have already posted a preview and free pick on this game so that is not the point of this article. I want to take this as the first opportunity to look at public betting numbers, something I will point out several times in a season.  The reason why this game jumps out at us is because of the large amount of action and the total lopsided action. We have gathered info from our top sportsbooks and of the 60,000+ wagers on the game, an astounding 80% of the wagering public has taken the Seminoles of Florida State. The betting figures on the total is about even on both sides.
Typically when we have a marquee game like this, ie where the game is the only football action and is between 2 major programs, we like to bet the team that is ATS (against the public). The philosophy behind this type of wager is that sportsbooks make money and the public can be swayed by misconceptions and/or pregame TV hype.  This is not an absolute rule though and especially early in the season the public can hammer the books hard with games like these.
See Yahoo Preview of FSU vs Pitt
~Brad