Best NFL Matchups Of The Week: October 31-November 3
October 29, 2013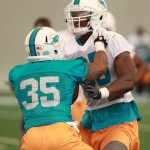 The NFL season is halfway home. It's week nine in a 17-week odyssey. If teams can't claw their way to the .500 mark in this early stage of November, they're not likely to play in January.
Cincinnati Bengals @ Miami Dolphins
This Thursday night game is a must-win for Miami, to be perfectly realistic about the situation. The Dolphins are spiraling downward at 3-4 and cannot afford to fall to 3-5. They must play the New England Patriots one more time this season and must play the New York Jets twice. If the Dolphins were to lose here, Miami would have to run the table against the non-New England portion of its schedule in order to finish 10-6. If the Dolphins or any AFC team were to fail to finish 10-6, the playoffs would likely not materialize. Cincinnati is now playing for a possible first-round bye in the AFC playoffs, so it's not as though the Bengals have nothing to play for. Yet, Miami is the team that is under the gun here. The line has Miami getting 2.5 at home. We like Miami here.
Kansas City Chiefs @ Buffalo Bills
This is one more test for the Chiefs before their bye week. It would be very special for Kansas City to get to week 10 with a 9-0 record, but after playing an October slate with a lot of home games, the Chiefs will have to go on the road in November. This will be a substantial test of Kansas City's focus. It's not as though the Chiefs have been blowing out opponents. Their offense remains a point of concern despite their unblemished record. Playing a road game against a feisty Buffalo team should be a challenge. Yet, it's a challenge an elite team should be able to handle. The Chiefs are favored by three. Have to take the Chiefs until they lose.
New Orleans Saints @ New York Jets
This is a highly intriguing interconference matchup. The Jets beat New England at home a few weeks ago and will be highly motivated to bump off the NFC-leading Saints. However, New Orleans' strength and toughness on defense should make life difficult for young New York quarterback Geno Smith. New Orleans is -5 points. After last weeks debacle, one has to feel comfortable taking the Saints minus the points.
Check out all of the latest odds on every NFL matchup on the board. Bet these games now at WagerWeb sportsbook.