Aaron Rodgers Injury Felt in Las Vegas
November 6, 2013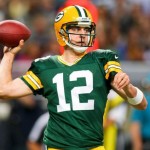 As you probably know, Aaron Rodgers suffered a shoulder injury in his non throwing (left) shoulder Monday night at the start of the game vs. the Bears.  The sports betting odds have been adjusted as  a result. Rodgers is expected to miss at least three weeks and two major sets of lines have been affected by this.
The Super Bowl odds for the Green Bay Packers has moved from 10-1 to 15-1. This is not a drastic change in odds. In fact, it plainly reflects how confident that oddsmakers are that Rodgers will be back in the lineup in several weeks. For all of you who bet the Packers to win the Super Bowl, have no fear. Seneca Wallace can hold his own and manage the offense which features a revamped running game with the emergence of rookie star Eddie Lacy. The next three games are against sub .500 teams. They are Philadelphia, The NY Giants and the Vikings in that order.
The other major line change was the Packers opening at -10 vs. Philadelphia this coming weekend.  Now the line is at Pick to Green Bay -1. The injury coupled with the fact that Philly just blew out the Raiders combine for this new line.  Some friendly advice: stay away from this one. This is exactly the type of game you want to avoid. You have a team that may be turning over a new leaf and appears to be a newfound offensive juggernaut vs a historic team at home utilizing a backup quarterback that has experience and a good QB rating. All these facts equal out to be a wash and it may just be a fun game to watch but not to bet.
Subscribe to get these news story updates via email:
[subscribe2]